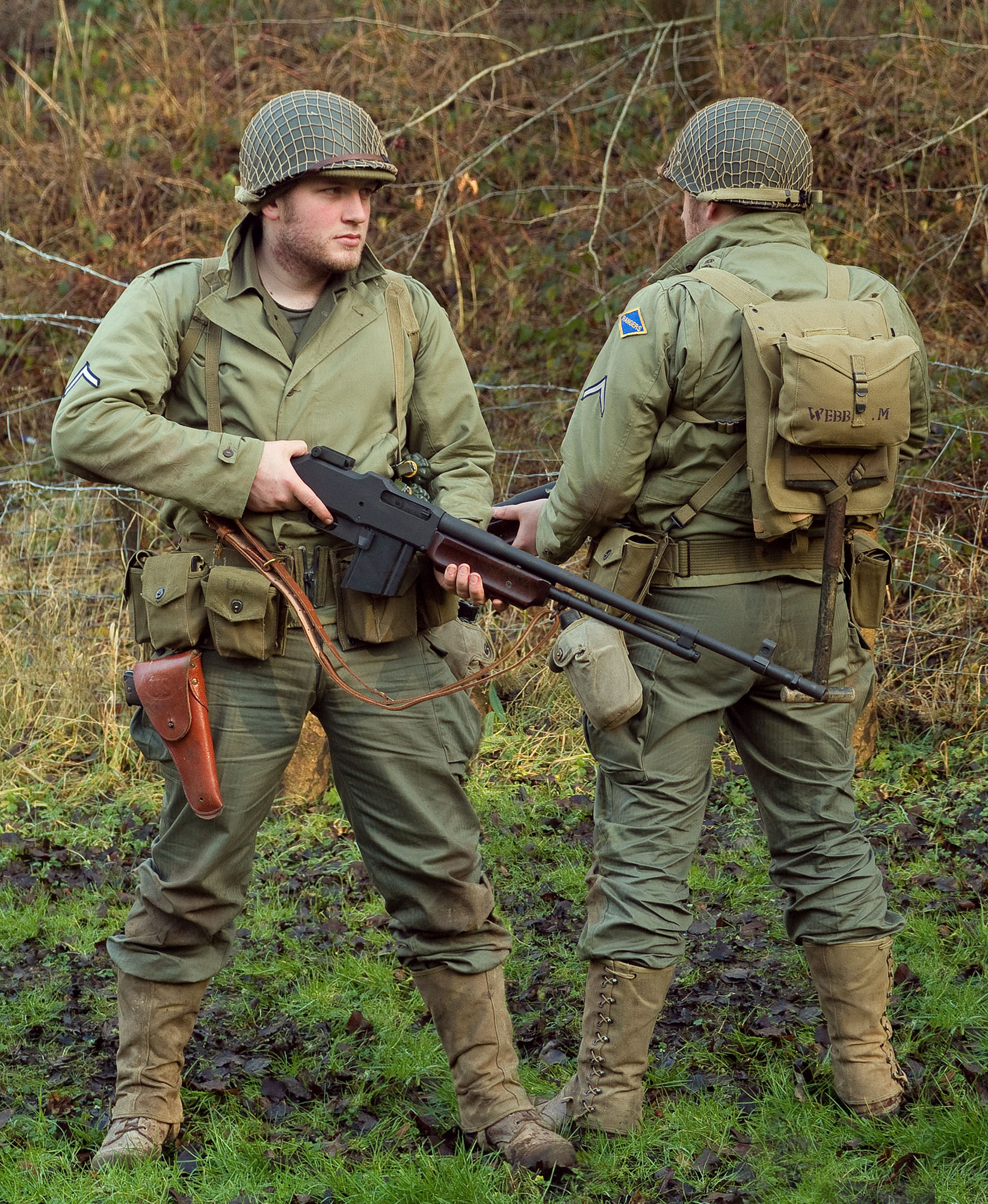 Basis of impression
2nd Ranger Battalion were used in most of the fiercest engagements in WW2, their higher standard of training often made them iconic amongst the regular infantry. Their gear and equipment is usually a mix of all units, such as Army and Airborne (whatever they could get their hands on).
Pictured is an impression of a D-Day Ranger beach assault Automatic Rifleman.
Head
• M1 GI Helmet – Post War shown in photograph. EM, SoF £20 – Better colour results can be achieved by spraying OD Green (Krylon Green Camouflage painted on the helmet shown in photograph)
• Helmet net: EM, SoF – £4 – £6 (Khaki medium net (pictured) -> Early war; Green tight net -> Middle to late War)
• Helmet leather chinstrap (missing off the post-war helmet) and canvass Chinstrap (of which coupled onto the bails using fasteners) should be replaced with the khaki canvass strap, and sewn onto the bails. – EM, SoF £15
• Jeep Cap (Worn under helmet as comforter and entirely optional) – Needs to have the band taken out of the helmet liner to fit depending on size of head) – Usually found at around £6 – £10 depending on store.
Uniform
• Rangers wore a large array of Uniform, ranging from M41 Jackets (pictured) to M43, HBT and Tankers Jackets, M1936 Mustard Trousers (often worn with HBT trousers over the top)
Uniform as Pictured:
• M41 Jacket – EM, SoF, P and various – £40 – £45
• HBT Jacket and Trousers – EM, SoF, P, MPP – Top £30, Bottoms £30
• Ranger Shoulder Tile – Pretty much all retailers will have due to popularity – £6 is average
• Private Rank Slides – Recommended for all players at CiA games unless assigned a rank otherwise (other than that any rank goes) £5 up to £10 for large patches such as Sergeant.
Feet
• Rough Out Ankle Boots – More commonly worn – EM, SoF – £50
• Corcoran Jump Boots – Rangers wore these if they could get their hands on them (Pictured) EM, SoF – £60
• Iconic Canvass Gators – EM, SoF £15 N.B. Be sure to measure your calf size before buying, especially when you are wearing your trousers. Buckle goes on the outside, closer to your toe than the lace. It's up to the wearer how to lace them up, the way shown in the picture is most popular as they do not come undone.
Webbing
• BAR cartridge belt – £20-25 (original belts are more robust than the monkey metal used in repro belts, but are rather pricey). Other belts that can be worn are the M1 Garand Cartridge belt (similar price) and the Standard Pistol belt (for use for Thompson Rigs and M1 Carbine Rigs – £15
• M1928 "Doughboy Pack" Haversack – For putting all your gear in. Beware of cheap repros of this item, namely the colour of the material and the straps. I would recommend seeing one of these before buying to make sure it is correct. £30-40. Stenciled surname and 1st initial on the meat can pouch for extra effect/identification. Straps to cartridge belt are part of the pack and do not need to be bought separately.
• M1910 Water bottle set – EM, SoF – anywhere between £15 and £20 as standard. Hooks onto eyelets on the bottom of the belt.
• Leather colt .45 holster. Used by Officers and NCOs for carrying their colt .45 (where issued) Not commonly given to a support gunner as pictured, but for the purpose of airsoft, its always handy to have one. Pistol mags in pistol mag pouches easily fit into the BAR cartridge belt pouches. EM, SoF £25-30, try and get a nice shade of reddy brown, rather than the nasty orange repro jobbies.
• T-Handled entrenching tool (attaches to haversack) EM, SoF repro £20
Green webbing can be used too, during the war there will be a mixture of Green and Tan webbing due to the particular batch of dye they were using in the material at the time.
Weapons
• VFC BAR (Aeg): AS and other retailers – £850
• TM 1911 (GBB): AS and other retailers – £80-120
• BAR Reproduction Sling: EM, SoF – £20
• Fake Inert Mk2 Pineapple Grenades – Available on ebay and various other shops – £5 for resin cap firers or £15 each for solid cast aluminum.
Notes
All prices are approximate. Also try Militaria Fairs – they can contain some real bargains. Many of the items pictured were bought at Militaria fairs. Where no retailer is mentioned in the list above its best to try buy at a fair.
Key to retailers
S&S – Shoot 'n Scoot:www.shootnscoot.co.uk
EM – Epic Militaria: www.epicmilitaria.com
ML – Monty's Locker: www.badges.montyslocker.co.uk
SoF – Soldier of Fortune www.sofmilitary.co.uk/reenactors/index.asp
WPG – What Price Glory www.whatpriceglory.com
AS – Airsoft Skirmish: www.airsoftskirmish.co.uk
DP – Div Patch: www.divpatch.com
SJ – Sentimental Journey: www.sentimentaljourney.co.uk

Photography by Chomley-Warner