[Sticky]

References for German loadouts
be prepared for a rather...erm... weighted view of things but lots of good unit histories.
aka Stigroadie






AFRA
better by design
"Truth is a shining goddess, always veiled, always distant, never wholly approachable, but worthy of all the devotion of which the human spirit is capable. "
Posted : 06/02/2008 9:57 pm
Here is a good site for general reference,.... put together by a private collector .
Posted : 06/02/2008 11:07 pm
There's a whole bunch of stuff on http://www.youtube.com that can get you in a Wehrmacht kinda mood. Just type in Deutsche Wochenschau and knock yerself bandy on german wartime propaganda reels. Some are better than others...
Posted : 15/02/2008 8:12 pm
This forthcoming book looks amazing... http://www.landmarkmilitarybooks.com/De ... -2629.html

You've got nothing to ein, zwei, drei, vier
Posted : 15/11/2008 10:49 am
Genossen,
If you want an Interesting method to carry your Mess tin and Zeltbahn 31,on your back without an A Frame... try this one..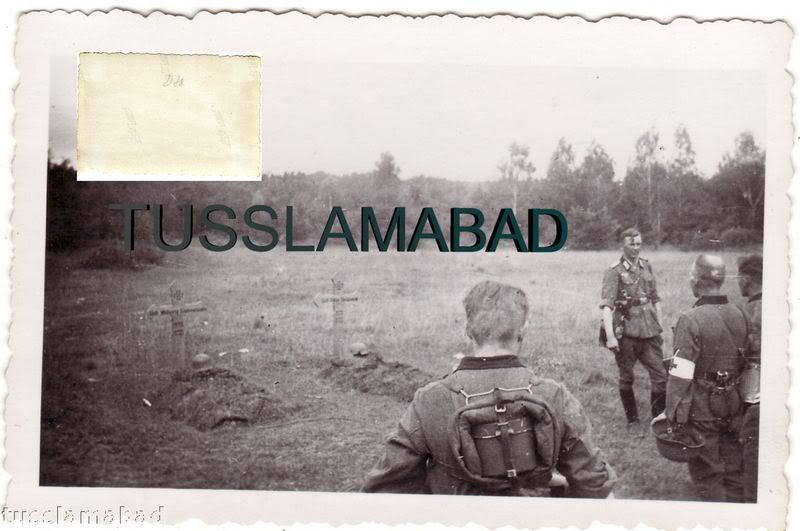 This image has several interesting points including the respect for their fallen Kameraden.
You need a Mess tin, Zeltbahn 31, Bread Bag strap, Two Great Coat Straps..
Have a play.. you will work it out....
Enjoy.
Posted : 06/12/2008 6:39 pm
Just found a re-enactment site that gives a pictorial description of pretty much every bit of Heer uniform ever used:
Posted : 01/02/2009 9:43 am
Excuse the quality of the picture, but this is a Waffen SS Mann in Russia, summer 1942. Mess tin is attached to a breadbag strap over the shoulder. Feldfläsche is on the left with the Feldspaten.


You've got nothing to ein, zwei, drei, vier
Posted : 07/03/2009 3:09 pm
US technical manual 1945, Handbook on German Military Forces

http://www.ibiblio.org/hyperwar/Germany/HB/index.html#contents
Posted : 13/11/2010 9:31 pm
Posted : 14/01/2013 4:52 pm
Has anyone ever read an Osprey book cover-to-cover?
I tend to buy them, look at the colour plates, then the photos, then decide to read it later. After a few years the book will be lost, sold or lent out.
Posted : 29/08/2013 12:51 pm
Yeah.... quite a few.
Their 'elite Tactics' is good for the text (well most of them, the occasional bad author has crept in) but even then I have spent more time looking at the pictures in truth. Sometimes with the Man-at-Arms ones you just want one nugget of non visual information, like 'how many drummers in a french infantry company', so you just have to read it all.
Posted : 29/08/2013 12:54 pm
Isn't that like buying a family pack of cereal just to get the plastic toy?
Posted : 29/08/2013 1:06 pm
Well another time you might want something else, so go back and have to read it all again. Plus I have 'book collecting library' syndrome, so if it is on one of my 'subjects' it stays regardless of if it gets opened. Some are used again and again though - mainly for war-gaming rather than this to be honest.
Posted : 29/08/2013 1:19 pm