Damen und Herren,
Lassen Sie mich.....
Mauser Karabiner 98 Kruz
By DBoyi Airsoft
Review by Guinness
Oh..sorry, my bad
Ladies and Gentlemen, I give you the "WWII01" otherwise known as the
Mauser Karabiner 98 Kurz
(KAR98k)
This is a brief mini-review of the new product offering by
DBoyi
from their new
WWII Series
.
Real Steel History
Much has been written about the venerable
KAR98k
and it is has been well known in Airsoft circles for years from both the
Tanaka Works
and the
Marushin
replicas, so I won't delve into great detail here.
From the Wikipedia entry on the Mauser KAR98k:
"The Karabiner 98k was a bolt-action rifle with Mauser-type action holding five rounds of 7.92x57mm Mauser on a stripper clip, loaded into an internal magazine. It was derived from earlier rifles, namely the Karabiner 98b, which in turn had been developed from the Mauser Model 1898. The Gewehr 98 or Model 1898 took its principles from the Lebel Model 1886 rifle with the improvement of a metallic magazine of five cartridges. Since the rifle was shorter than the earlier carbines, it was given the designation Karabiner 1898 Kurz, meaning "Short Carbine Model 1898". The standard Karabiner 98k iron sights could be regulated for ranges from 100 m up to 2000 m in 100 m increments.
The rifle was noted for its good accuracy and effective up to 500 meters (547 yards) with iron sights. For this reason, rifles selected for being exceptionally accurate during factory tests, were also fitted with a telescopic sight as sniper rifles. Karabiner 98k sniper rifles had an effective range up to 800 meters (875 yards) when used by a skilled sniper. The German Zeiss Zielvier 4x (ZF39) telescopic sight had bullet drop compensation in 50 m increments for ranges from 100 m up to 800 m or in some variations from 100 m up to 1000 m. There were also ZF 42, Zeiss Zielsechs 6x and other telescopic sights by various manufacturers with similar features employed on Karabiner 98k sniper rifles."
Airsoft Replica
DBoyi decided to 'clone' the older, 6mm design for their first in what appears to be a 'series' of WWII offerings. Although I was hoping there would be preview models or perhaps a list of the upcoming offerings from DBoyi in the manual, no such luck. We will just have to wait and see what they bring to market next.
The package arrived bright and early on my doorstep this morning, after an
interminable
wait of......
2 whole days!
from my friend Johnny at
Boomarms
...I really have to speak with him about his shipping times
I ordered the gun sort of on impulse Tuesday evening, and here I am today playing with what so far, appears to be a very worthy Airsoft replica.
Price:
$125 To my door including express shipping from BoomArms.
...Did I say I love those guys?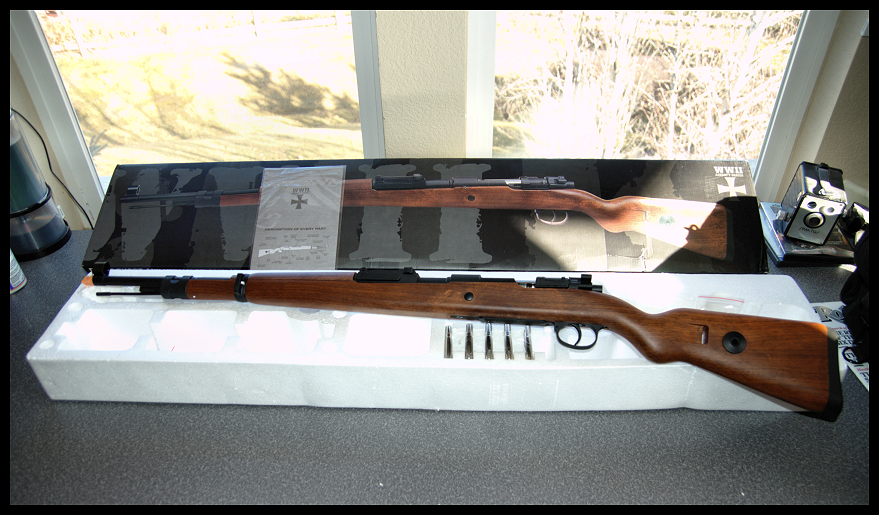 Included two page Manual- "You may be punished if you are shooting for a practical joke"....Classic- I have a new sig tagline
The packaging says "Built Material: Metal and ABS" and I already knew that the 'wood' furniture was supposed to be ABS, however based on reports from previous owners of the Marushin 6mm Mauser, I was expecting the receiver and much of the guns mechanicals to be plastic as well.
I was very pleasantly surprised. More on that shortly.
Upon ripping the standard green wrapping paper off....hmm that reminds me... I need wrapping paper for Christmas.....oh sorry
And then opening the DBoyi's box itself, I was greeted by the most 'authentic' looking ABS wood I have ever seen. I hope the images included in this review will do justice to what they have created.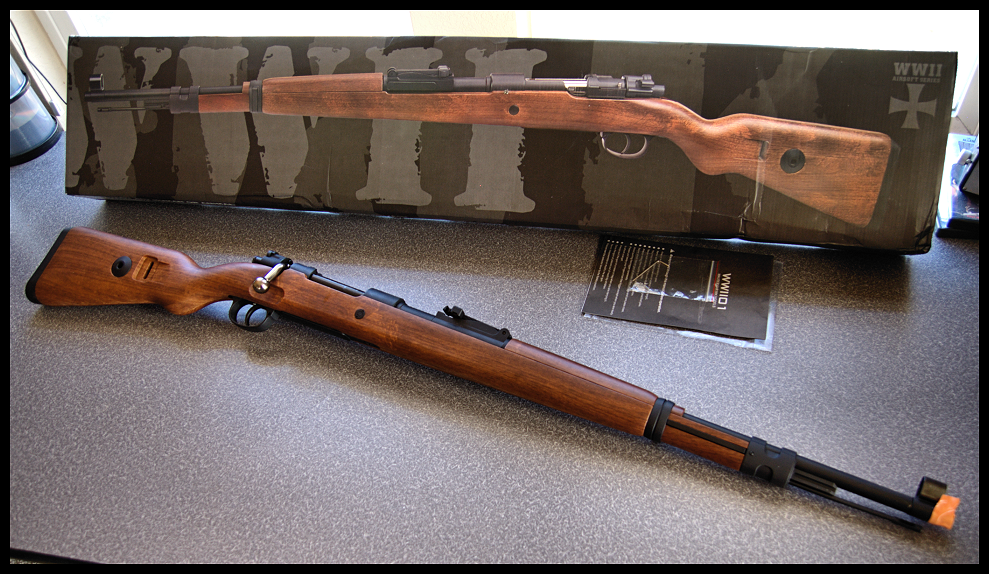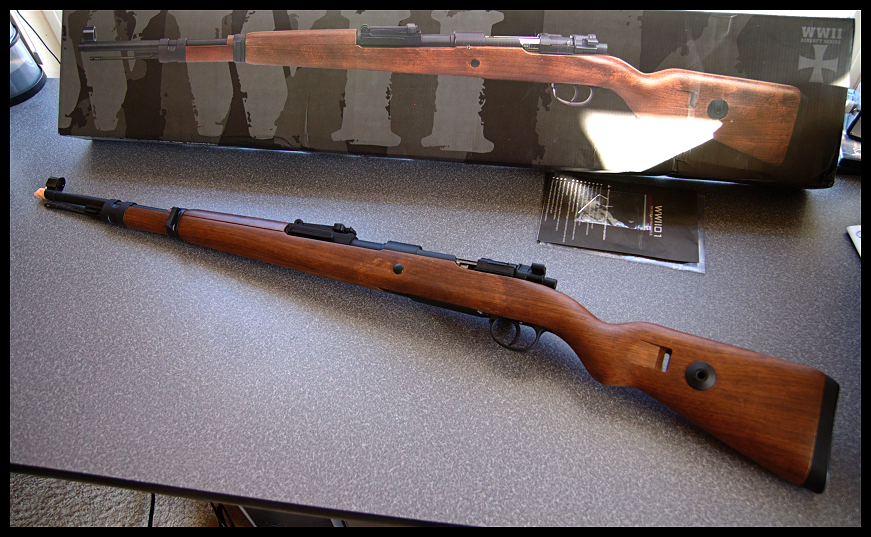 The 'Meat' Of The Review
Appearance: Stock And Furniture
Well, as I stated above, this is the best looking
faux
wood I have ever had on an Airsoft gun- much better than anything Tokyo Marui has produced to be certain. The manual lists all the parts of the gun on its back and it calls the wood 'Teak' now, I'm not entirely sure, but I expect that this manual is a direct copy of the original Marushin manual, but I can assure you this is not 'Teak'. The 'grain' certainly is good, but it has a somewhat darker, almost Walnut cast to it, Even with color correction the pictures here still give it a bit redder shade than it actually has in person.
Now, that said, while as you can see the furniture
is
very nice, it's not entirely with out issues.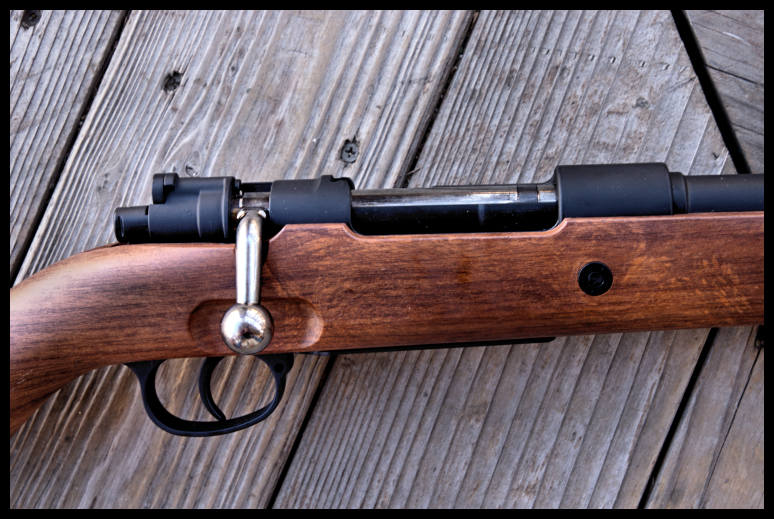 Poorly applied 'swirl grain' effect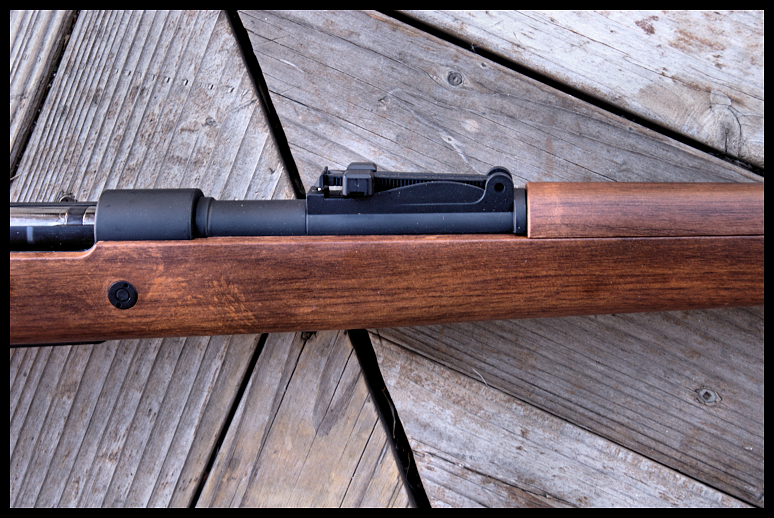 A bit further down the stock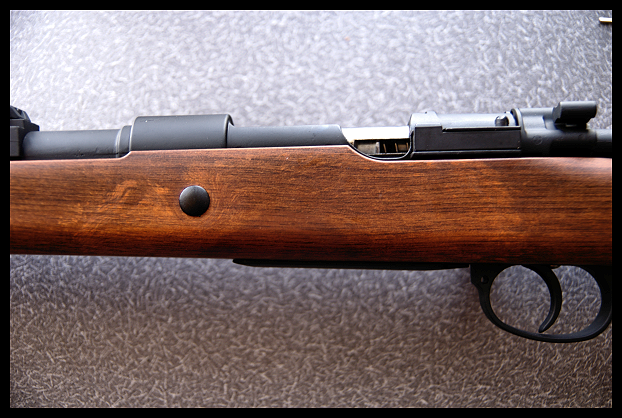 Both sides, looks like someone had sticky hands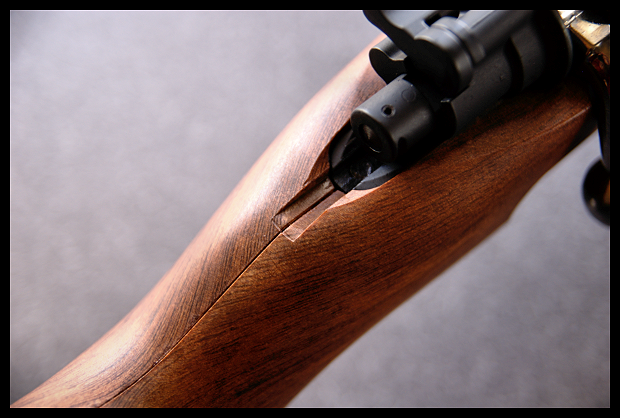 Seam City....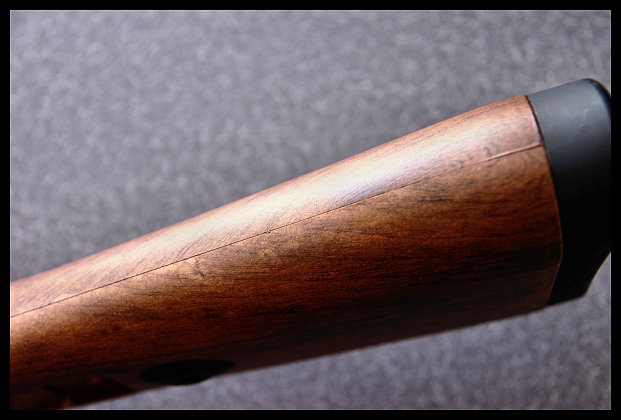 Ugh....
The images above show 2 issues I'm not entirely thrilled about.
1.) In what I believe was their attempt to create the swirls and the different color variations and grain patterns of real wood, it really just looks like someone was holding the gun with a glove while they applied the paint and some of that paint was botched during the process- I can see the effect they were trying for, but well...I'm just glad I'll be weathering the gun- let's just say that.
2.) Seams. In my book, there is really nothing that ruins a replica more than seeing the seams where something was fit together. This stock really needs a lot of work in that regard. Right now, my plan is to probably sand everything down first and foremost to remove any burrs and ridges where the halves meet, and then likely go over the seams with some good wood putty to fill in. Of course I will take plenty of pictures of that process to share.
The Gun: Metal or Plastic?
As mentioned in Part I, I was prepared for a nice metal bolt and plastic bits everywhere else. I am happy to report that is not the case. The Bolt, the Receiver, Breech, Outer Barrel, Rear Sight, Trigger Guard, Trigger, Barrel bands, Front Sight, Sight Hood, Cleaning Rod, Bayonet Lug, Cupped Butt Plate,....are all metal.
And oh yeah, 5 silver-colored metal shell casings.
What
isn't
metal is that black piece that sticks in between the front barrel band and the rear barrel band- that is plastic.
And the furniture, we already mentioned that.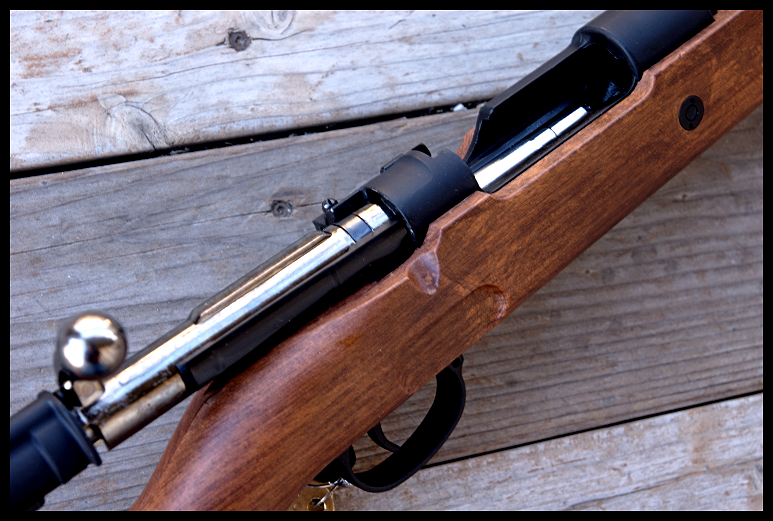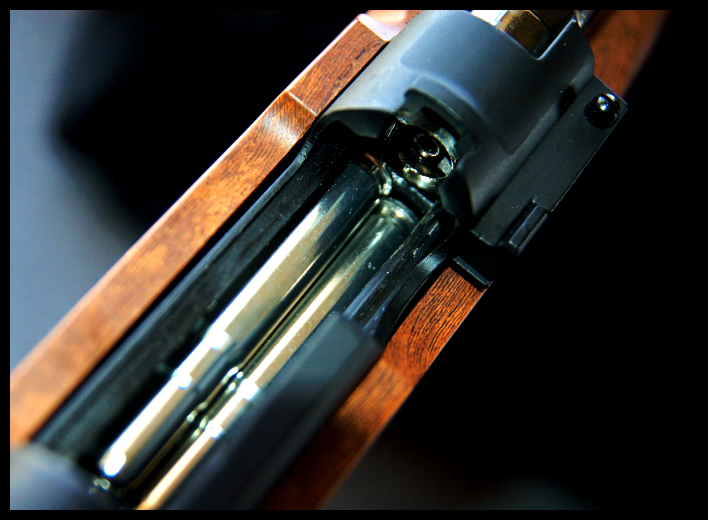 View of Bolt face looking toward rear of Receiver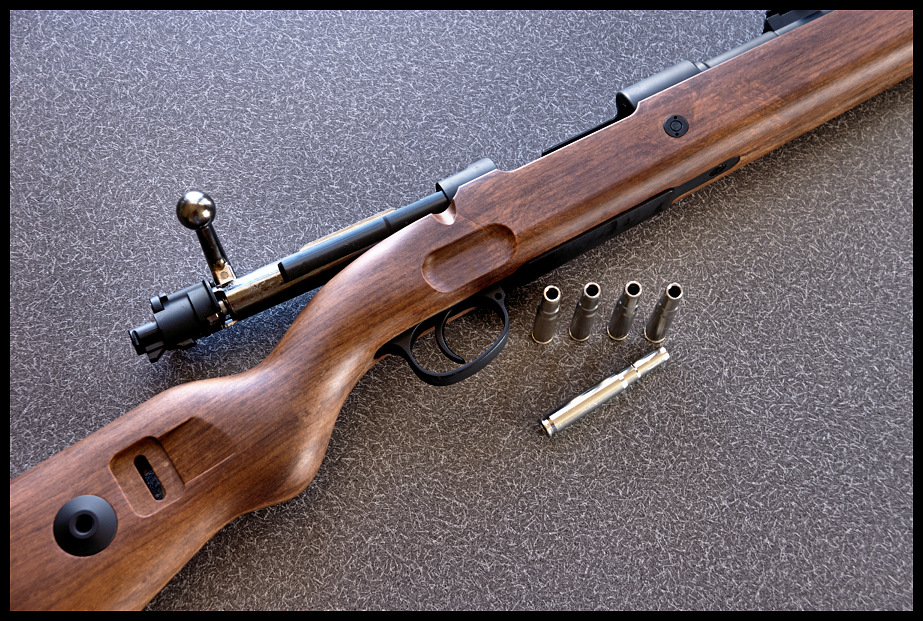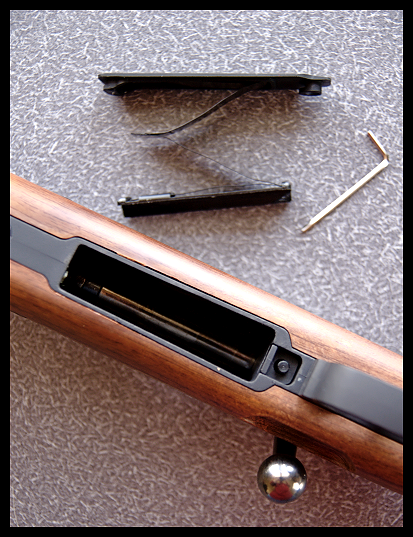 Magazine Well with floor plate and follower removed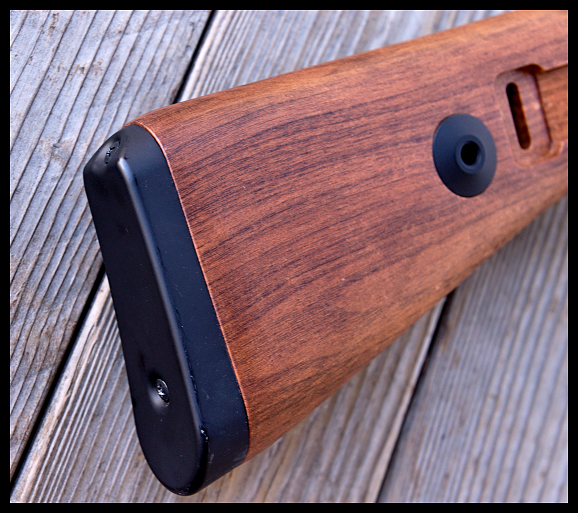 Stock end and metal buttplate
Let me just say here that I have not torn into the guns mechanicals yet- I wanted to get this mini review done and pictures up for folks that are anticipating a purchase.
So I haven't removed the bolt from the receiver yet to inspect the spring etc.
The gun works on the 'Push Cocking' spring charging method, which means rather than
pulling
the spring to cock the gun and set the trigger as the bolt is pulled to the rear, it instead pulls easily, then requires pushing effort to cock it as the bolt is returned home and loads the shell into the breech. With practice this can become a fluid motion.
But here are a few closeups of the left side of the receiver ::)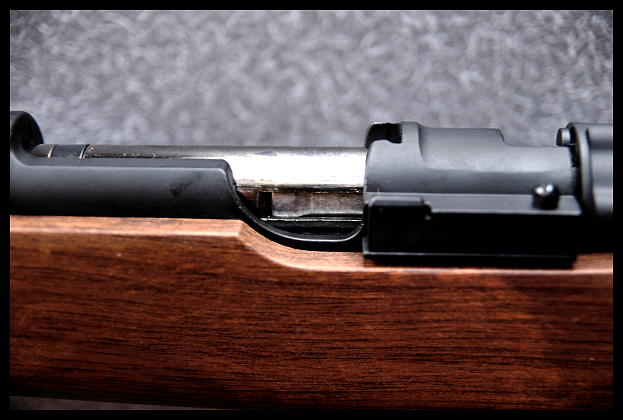 Gun 'Safe', Not Cocked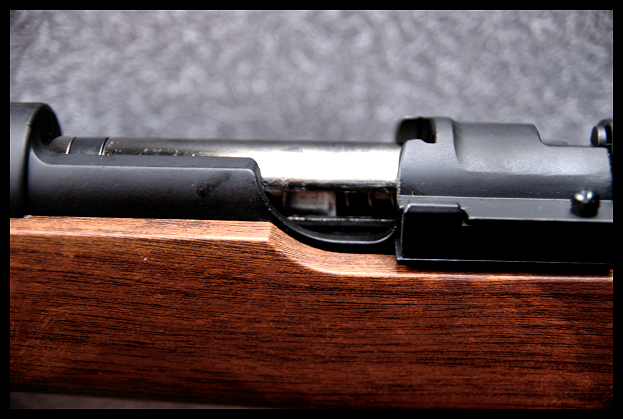 Spring Visible, Gun is Armed
Testing
So, as I always say right about here......
I'm not cool enough to own a chrono yet......
::)
It's still true- So I do the 'Coke Can Bottom' test-
The DBoyi KAR98k
does not
perforate the bottom of a aluminium can from 1 foot away.
It will go through the side of a can from up to 4 feet away.
Sorry as usual for the lack of truly 'Scientific' data. But here is a target test- 5 shots from 32 feet.
The
very first
shot was pretty much the proverbial 'Bulls Eye'! But I think I pulled the rest of the shots.
Followup data this weekend as I break the gun in- One note- the receiver and breech were coated in a pretty thick grease- I really don't think it was white lithium, so I am going to clean all of that mess out, re-grease with quality white lithium.
More to come as I use the gun-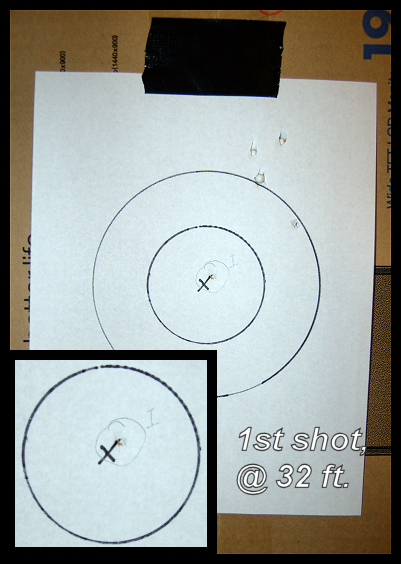 Conclusion
All in all I must echo what I have come to believe and say with pretty much all of the Chinese product I have been reviewing lately.
This gun is an great value for the money.
Yes, it will take some 'tweaking' here and there, I'm very anxious to get it on a chrono and get accurate readings so I know if I need to mess with the spring to get a little more 'juice' or as I suspect based on
most
of the clone products, It is likely in the 300-330 range already. We'll see.
Also expect me to do my usual work of weathering and aging to the stock- Who knows how long it will actually live in this plastic stock, but in the meantime I am going to make her look like all my other "veterans"
As far as the question of skirmishability goes, As has been said elsewhere, with these shell casings, it's probably not going to be a realistic battlefield weapon. Especially here in Colorado where the shells will get lost on the ground and underbrush (or Snow) very quickly.
This is really a plinker or Reenactment loadout weapon to carry, but probably not use a lot.
For the WWII Airsoft reenactor that needs a backup rifle or something to have for target practice, you can't beat it for the price. So far its a hell of a lot of fun, and I don't even do German gear!
As mentioned at the beginning, it appears from the packaging that DBoyi is planning on an entire WWII line of weapons, not much detail is available anywhere currently, and there are no 'clues' on the included manual or printed material that accompanied the KAR98.
Also worth mentioning, the guns comes with 250 .2 6mm BB's and......that's it. No strap, no stripper clip either which I really expected, oh well.
Positives:
-Best looking faux wood furniture I've seen
-Metal Receiver, and 99% of the rest of the gun
-6mm 'old school' gun
-Great value for your Airsoft dollar
Negatives:
-Plastic instead of wood furniture
-Older 'push spring' design, upgrade issues?
-Furniture finish could still be better
-BB's in shell-casing design- lose shells easily
-No accessories with purchase, just bbs
Still, I am happy with the Mauser and see a lot of potential for this rifle, just not on the battlefield against AEGS so much. Given enough spare shells (at about $3 USD a piece) and a keen eye, maybe- It would be a lot of fun still.
Many thanks to Boomarms
Slainte!