For those wearing soft headwear - berets, FS or KD caps; the correct cap badge is this one:
Lots of originals and restrikes to be bought for around a fiver on ebay
Photographs of Herts. Regt. soldiers in Italy generally show them without any insignia either on BD or KD, but for those who feel the urge to bling it up, this is the correct arrangement: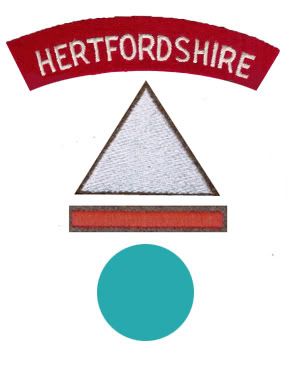 Indicating that The Hertfordshires are the senior Infantry Regiment in the 66th Infantry Brigade of the 1st Infantry Division. You can buy the patches from Monty's Locker, DivPatch and Epic. The 66th Inf. Brig. patch needs to be home made.
Note: this is only worn on wool BD. Denim BD has no unit insignia. KD Bush Jackets only had the 1st Inf. Div. triangle poppered on.