Here is a chance to discuss what thoughts you have on the clothing for the event.
Well for the US the basic idea is M43's or M41 jackets if possible but any other suggestions are open.
German we want to see the BLING factor we all know many of you have the stuff in the wardrobe so here is the chance to show it off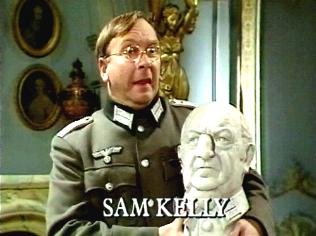 Now the big one is French Resistance FR or FFI what are you going to do?
You can pick up stuff easy for this particularly if you like the classic ideas.
http://www.ebay.co.uk/itm/Brand-New-Men ... 6fc4fd3e0e
http://www.ebay.co.uk/itm/ADULT-MENS-FR ... 519d2da071

Or one for the women on the forum.
http://www.ebay.co.uk/itm/WARTIME-1940s ... 870d6506ef
We would also like to see some custom improvisation if you feel up to the task, we would like each FR to have their own armband.
This can be a simple one BLUE with a cross of Lorraine or more detail like this.
Here is an original on eBay
http://www.ebay.co.uk/itm/WW2-ORIGINAL- ... 43ad8bc0bf
More Allo Allo cast here
http://www.ycdt.net/allo/yallo_01.htm