With us trying to start WWII airsoft in South Africa, this is my take on a Commando Officer uniform.
I will use '49 BD's, as our bush and brush is quite hard on clothing.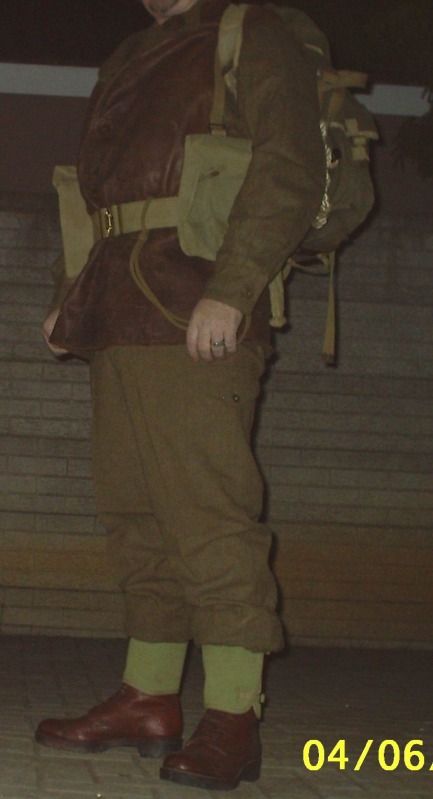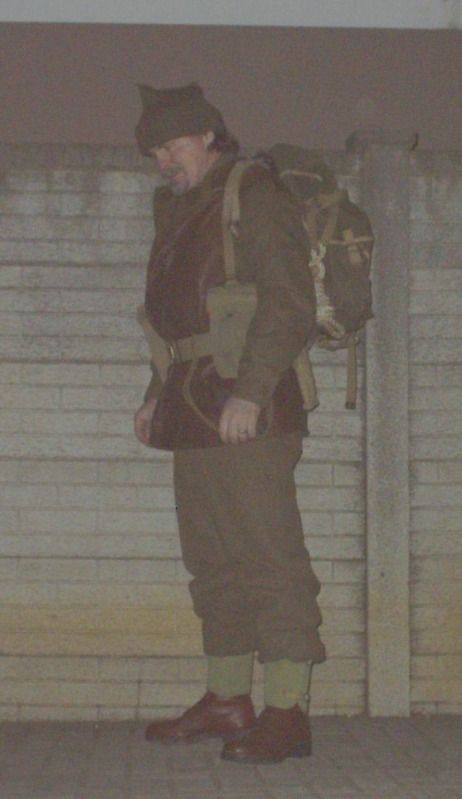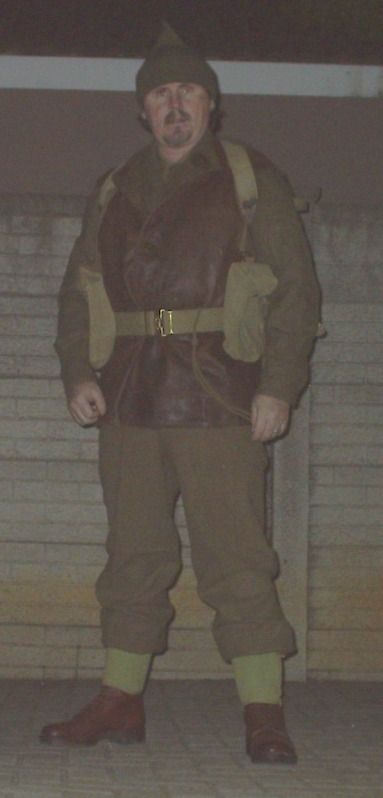 The comforter is a postwar dutch one, but is suprisingly brown (as I thought they would be more green-I have a post war SA one which was very green).
The BD's are '49.
The shirt is a SOF repro (I have an early SA army Khaki one I will use in games). The tie is my actual one fro being an officer in the SA army (we wore the same tie then).
The webbing is my WWII webbing, which I may still Blancho. I have used my belt mounted lanyard fitted to my Bell M1911A
The Bergen is a WWII item, it is a bit rough but still useable.
The toggle is my old SA army one, the toggle itself is period incorrect.
The Jerkin is a rough post war one.
The gaiters are '60's SA army. The cut and buckles placement are slightly different. I have some mint Belgan post war ones (will use these for reenacting only though)
The boots are 50 & 60 SA Army boots, which uppers are a splitting image of WWII oficers boots, i've seen on SOF; but with rubber soles. I'm not sure if commando officers wore the tan coloured boots. I have some WWII hobnail boots but will not wear these to play. I may infact wear '80 dark brown SA army boots to play in to save both these other pairs. The gaiters will cover the top part of the boots.
I have a King's cross RM beret badge, bought locally for R20 and am awaiting a green beret from SOF (which was on a GBP4 special).
I also have a net sarf to wear, ex SA army. This however is only OD brown without the green camo. I see Ebairsoft have a green and brown camo veil which looks the part.
Not shown are my Lewis gun pouches which I may attach to the straps of the Bergen for my Cybergun Thompson drum mags.
Also I have a M1928 Thompson with drum mags and unfortunately 30 round MAG mags.
I did consider wearing the webbing in an officer load out with the extra Bren mags around the neck.
I'm considering some RM commando flashes and the tombstone combined Ops badges