An Epic weekend comes to an end.
Thanks to everyone for coming along and supporting this weekend. Truely awesome
I hope you all enjoyed the senario ansd site, feel free to post up your stories of the weekend here. Ill get the movies up ASAP
Topic starter
Posted : 20/02/2011 5:22 pm
AYE i totally agree cheers for putting in the effort and running it Josh
and Helpers
Especially the german OC top drawer commanding job
was an awesome weekend and yet another reminder for me why i wanna get into WW2 airsoft deeper
New MP40 bought from Josh > first kill of the day with said MP40 was Josh
Posted : 20/02/2011 5:47 pm
great weekend, i big thanks to josh and all the other players who made it all such good fun. cheers.
Posted : 20/02/2011 8:20 pm
Greetings from the Sheffield Gulag, here in the frozen north where the snow lies thick on the ground (seriously!), already I long for the balmy Polish forests, however my intemperate comments to the Comrade Commisar led to my recall to Moscow last night and then assignment for political re-education here. Perhaps explaining to him that the term 'capitalist fascists' was incorrect as they were not capitalists but National Socialists, was ill-advised.... be that as it may, those nice men from the NKVD wasted no time in putting me right.
High points for me:
i) spending the first hour of the game patrolling and trying to get a fire to light in a sodden, rainswept forest with no kindling. Heroic Collective Labour Efforts eventually prevailed and the fire was duly lit, oh, the jubilation. Many thanks to comrade Wladeck for entertaining us with his accordian.
ii) being on the wrong end of the artillery barrage, actually quite alarming and suppressive. One comrade was heard crying in terror before Socialist Norms were restored.
iii) our heroic death or glory charge, Red Banner to the fore. I gather Eisenstein is filming a recreation.
Anyway, a great event, very enjoyable, particularly the non combat tasks. Frankly I could spend a whole weekend digging holes in the ground, but next time I'll remember to take my mess tin and cooker into the field. Nice to meet some people off the forum in the flesh, as well as see some familiar faces and meet new ones. Sadly my camera battery died, so no pics, probably due to the actions of saboteurs and defeatists.
I'd like to nominate Porta and Tiny for the Order of Lenin for their devotion to crewing the MIghty Maxim.
Cheers
Martin
"Mistakes in the initial deployment cannot be rectified" Helmuth von Moltke
Toys: AGM MP40, Cyma M1A1, TM M14/G43/SVT40, TM VSR/K98, SnS No. 4, ASG Sten, Ppsh.











Posted : 20/02/2011 8:45 pm
really sad i missed this one but i have neither german or russian kit or weapons,seems i missed a great event,post up picturers asap please ,i espetially want to see the maxim in action
armoury
m1a1 Thompson,sten mk2,mp40,stg44,sterling,mk2 bren gun,lee Enfield no4 mk1,Mauser Kar98, Walther ppk,smith and Weston m10 and Mauser m712
Give me a big enough hammer and a place to stand and I could fix the world.
i'll kill a man in a fair fight or if i think he's going to start a fair fight or over a woman or.......
a problem shared is a problem halved ,but an advantage shared is no advantage at all
if a job's not worth doing then its certainly not worth doing well




Posted : 20/02/2011 9:59 pm
I had a outstanding weekend, thanks to josh the helpers, and all the players
tiny is currently in casualty, awaiting "feedback on his burns" im glad he was hard enough to soldier on through today, i doubt i would have. im glad he did as we really enjoyed it
EDIT ............hes just phoned and hes ok, but has a referal to a burns unit.
the maxim performed well, and needs remakeing to look accurate, but the concept worked. i could even push it alone through 6 inches of mud, and over fallen down trees. a smaller lighter sheild looking more "real steel" would actually be lighter so theres a bonus.
i loved both days, and the charges were great fun.
The social was brillant , drinking, drinking, fire walking, drinking, petrol chucking, drinking ,lighting cigs in the fire like "mongo" of blazing saddle fame, drinking more singing songs whilst standing in a fire wearing a burning top hat/bowler hat, and er, oh yes...... drinking.
it was also nice to attend a gunman game for the 1st time, slightly different to a CIA game, but a great event all the same.
thanks again josh and crew
here the only pictures i got on my phone, as my kids had trashed my camera, and i only found out when i got on site to play
we were guarding the fuel dump
-- attachment is not available --
-- attachment is not available --
-- attachment is not available --
more to follow
"Take that you rotton helping of strawberry flan!"
Joseph Porta to "strawberrys and cream", in the sven hassel book ,ogpu prison
Posted : 20/02/2011 10:17 pm
-- attachment is not available --
[attachment=1]P190211_10.44_[01].jpg[/attachment]
the fire of doom
-- attachment is not available ---- attachment is not available --
"Take that you rotton helping of strawberry flan!"
Joseph Porta to "strawberrys and cream", in the sven hassel book ,ogpu prison
Posted : 20/02/2011 10:19 pm
Bob Hoskins...........aka Pete Dunn.........
Doppleganger
edit.......young Bob H
______________




Posted : 20/02/2011 10:35 pm
Tiny i hope your stomach is ok
Thanks Marsha, i'm not too bad now.
tiny is currently in casualty, awaiting "feedback on his burns" im glad he was hard enough to soldier on through today, i doubt i would have. im glad he did as we really enjoyed it
EDIT ............hes just phoned and hes ok, but has a referal to a burns unit.
I'm glad I soldiered on today. What a fantastic weekend. Many thanks to Gunman for both the whole weekend, and alsothe loan of the kit. Thoroughly enjoyed every aspect of the weekend, including the injuries i sustained on saturday night when 'the evil hun decided to capture me and torture me with a burning stick'!!
Any rumours of fire-walking and other such proposterous activities are greatly exadurated as this would surely breach some level of H&S

As Porta said, i'm now out of A&E and home, waiting for the burns unit to ring me in the morning for an afternoon appointment(which, from the NHS, kinda worries methat its happening so quickly
). I've added a pic of my (ahem, slightly portly) stomach with its injuries, just to keep you all amused and give you someone to take the mickey out of. As you can see, the 'evil germans burning stick' was highly effective in a physical way, but I didnt relinquish any Soviet secrets due to the fact that I didnt actually know any!
Anywho....... what a great weekend, thanks to everyone who organised and made it happen, and to all the players for making it work so well.
-- attachment is not available --
My Two Cents.....
Tiny






"I'll show you 'ow the English knock the top off a egg"
Weapons:-
MP40
Dboys K98
MG42
Thompson
plus loads of other modern day crap
Posted : 20/02/2011 11:20 pm
Cheers Josh, Had a great weekend once again with Gunman. Thanks to all. Special thanks to Doc for tryingh to fix my PPsh
and taking the time to show what to do to sort it. I owe you a few ciders for that.

Best bits for me, Saturday the afternoon long fight around the oil drum CP, the german engineer blowing the sh!te out of the AT gun. Sunday, hunting down the Russians trying for a break out.
Cheers again to all.







Armoury: AGM MP40, AGM Sten MkII, K98K/vsr and Maruzen P38.
Posted : 21/02/2011 7:51 am
A few pics - excuse the poor quality.


You've got nothing to ein, zwei, drei, vier
Posted : 21/02/2011 10:37 am
What a great weekend, even though cold and damp I loved every minute.
A big thanks to all the players who made it, along with the no quarter given during any exchange to the banter accross the border, I was disappointed that no pictures of german ladies where up for trade for the russian cigarettes

Favourite moments where:
The two charges on both days! loved leading the second one

The mass dash accross the border at the start of sunday. Only to be denied freedom as I stopped to engage the following whermacht to help me soviet comrades escape.
Bouncing a stick grenade off a tree only to catch it and be able to launch it back into the fuel depot during one of the great exchanges that took place there.
The last word to Josh for bringing out an outstanding event as always.
Roll on the next one!
Posted : 21/02/2011 11:29 am
The Red Army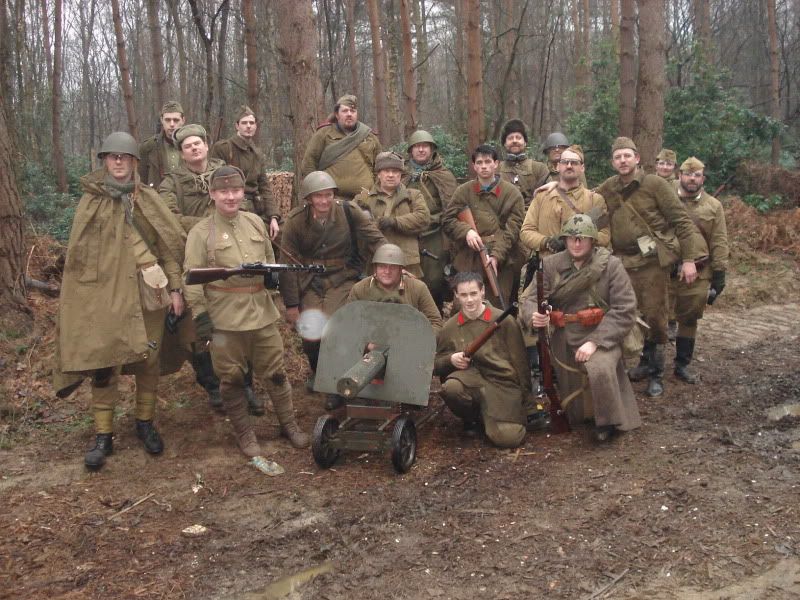 The German Invaders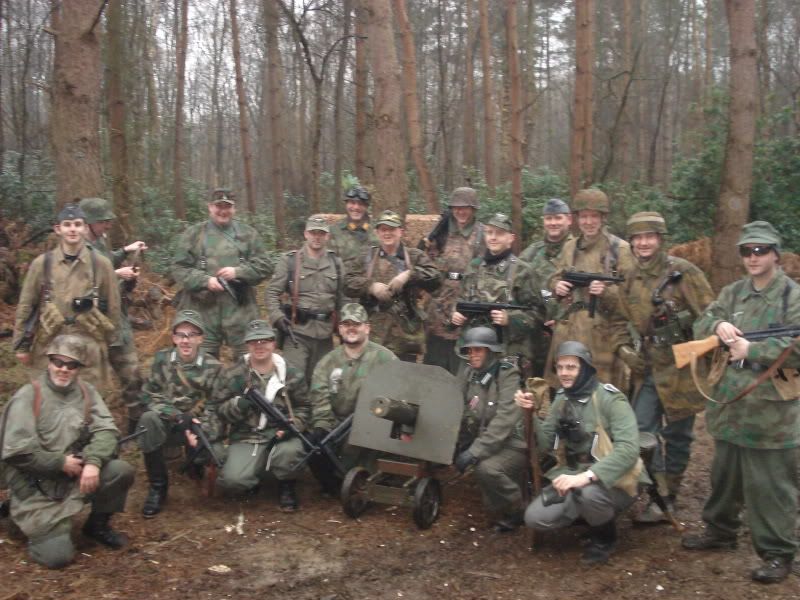 Marching into defence of the motherland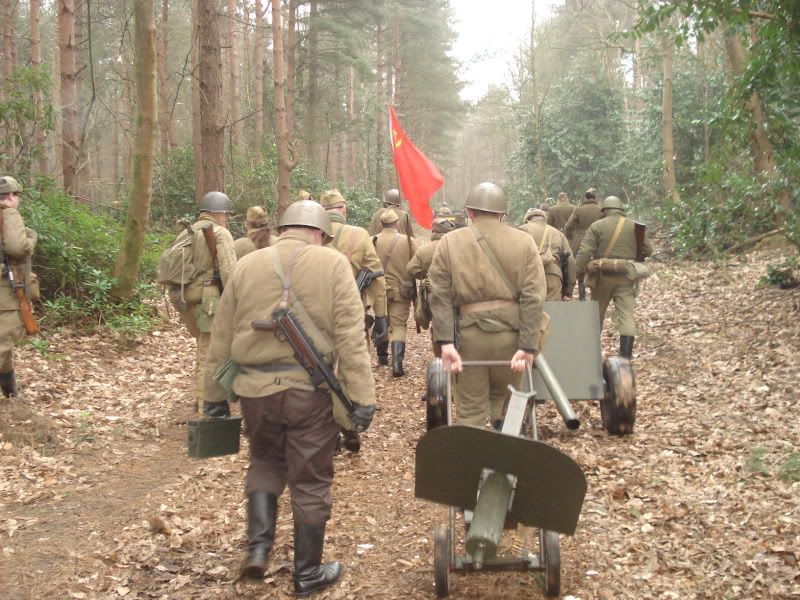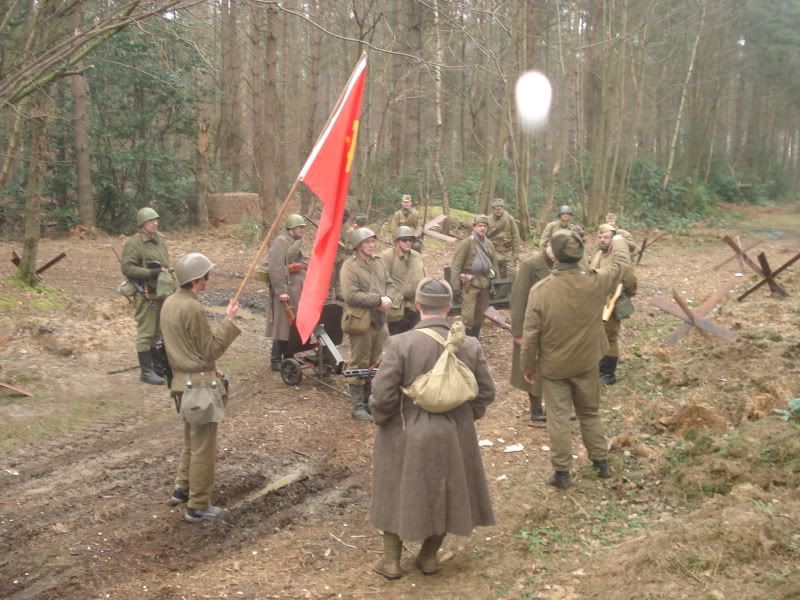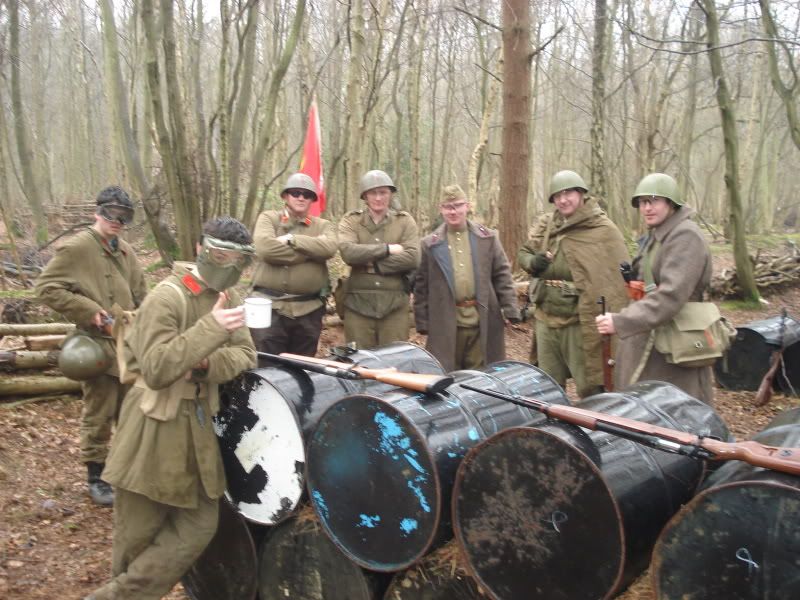 After the smoke clears from the brave charge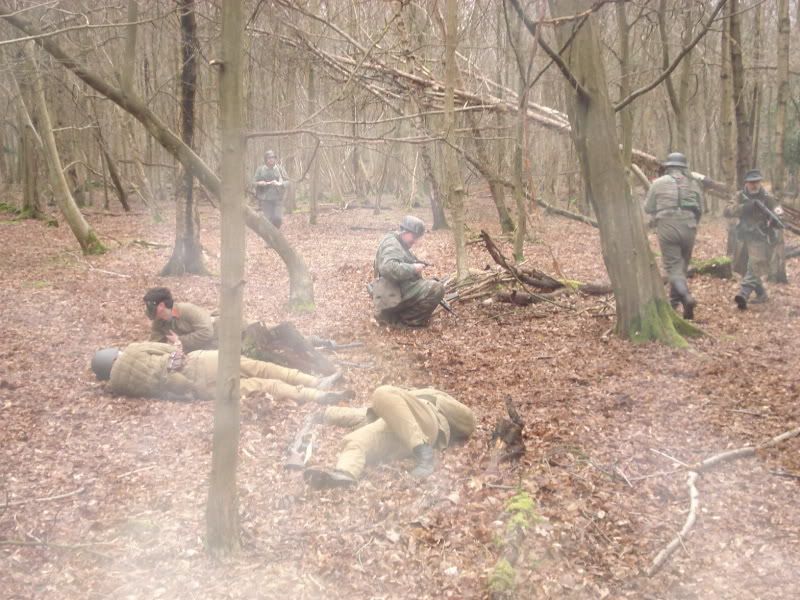 Marsha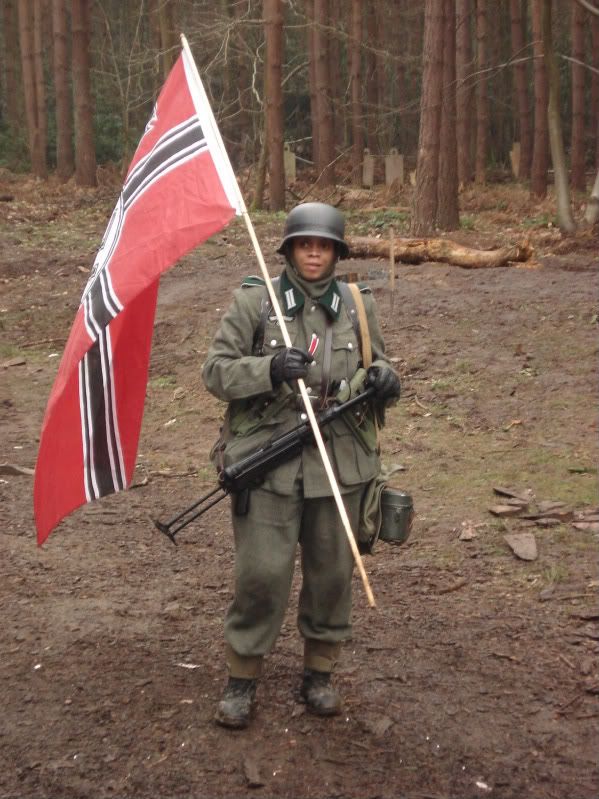 Posted : 21/02/2011 11:36 am
Awesome pics guys, now im back from the broken I can post up a bit more.
Big thanks to chommers for taking on the roll of the German OC, its never an easy job
also to the rest of the marshall team for pulling the weekend together.
Im so broken and stiff from Saturdays battles
but was worth the pain
From the russian commanders side of things, you guys did me proud in both effort of kit and playing the part. I felt from the off the team spirit and comradeship we needed to lose
In a senario where your never realy going to win, we still drew victories on honour, counter attacks and plenty of death.
To the Germans, the attacks felt organised and never let up. You were all worthy advesaries and the beatings we recieved never felt like a spanky, more like a caffine fueled round in the ring.
To all my comrades in arms
Best moment...watching the red army smash the fuel dump and retake it after 3 hours of being beaton!
worst moment...shooting myself in the foot with my revolver whilst drawing it...long story best left when pissed
cheers to all
Topic starter
Posted : 21/02/2011 7:44 pm
Thanks to all for a weekend of fun! Having Tiny and Porta in my squad definitely added to my enjoyment in so many ways. The standard of kit was good, as was the sportsmanship. I was lucky that, on the Russian side, the vast majority were people that I know well and have played alongside many times before. Good to meet new people too and, put faces to names.
Personal memories? Finding out that my Hexagon PPSH was like a laser when firing .25's and then, holding off the German advance after the "brew break" on saturday, with Josh to begin with, then, more or less cut off on my own for an hour, until I ran out of ammo and was nailed by several krauts. It was a fair swap I thought, as I'd killed a LOT of Germans, including their C.O (twice!)
. Then, on sunday, "escaping" twice! Apparently, the second time, I ran straight past Chommers, who dry fired at me. I'm amazed at just how fast I can still shift when half a dozen Germans are shooting at me!
The social was a new "low" (I say that in the nicest possible way!). Quite how Tiny and Porta got me into that fire, I'll never know but, kudos to them for getting into it several times themselves! Tiny, I hope the burns heal quickly! I have some of it on video but, need it editing and "Ring of fire" adding as a soundtrack!








When I want your opinion - I'll tell you what it is!
Posted : 21/02/2011 8:59 pm
I really enjoyed playing on the Russian side my first non open day skirmish and i bloody loved it,
see thoose of you who go in july to battle for minsk
not the best of all videos but we tried the last few clips inculding the charge were filmed by my friend on the second day.
been editiing all of today, hope you like it








WW2 Weapons AGM Sten, AGM MP40
Posted : 21/02/2011 10:27 pm
Link doesn't work!








When I want your opinion - I'll tell you what it is!
Posted : 21/02/2011 10:34 pm
I am that good.
If only I was that good on the Concertina.
And an opportunity to say - what a great weekend. Loved the first hour of patrolling and fire making, and have now decided to fall in love with Plashes - waterproof against the rain and wind, plus an added batman cape profile when you disengage from Chomely - win win.
Cheers all, and to Josh muchly for the most characterful and enjoyable two days play.
Posted : 21/02/2011 10:53 pm