Can anyone identify a piece of equipment....
Hey Guys,
Im putting together a 'Jackson-esk' (saving Private Ryan) sniper loadout. He carries on his back a tube, which i assume he keeps his scopes in.
I've checked my G.I equipment book & and the net, and i cant find anything similar. Or a picture of one, close up enough to make a replica.
After a bit of digging on the net, i found a comment which states its possibly a german case.
Does anyone have any infomation that could shed some light on the matter?
Topic starter
Posted : 06/07/2009 4:15 pm
Do you have a picture of it? That'd help a lot.
There's certainly leather tube containers for British scopes.
Posted : 06/07/2009 4:16 pm
I've searched high and low for days for a clear picture, and nothing has surfaced. Thats why i didnt attach it. I'll try and screenshot the film tonight though.
Topic starter
Posted : 06/07/2009 4:33 pm
yeah... soz that's what I had in mind. When doing some research for another project I found the only way to do it without special software was to take a pic of the movie playing with my digicam!
Posted : 06/07/2009 4:41 pm
Picture as promised: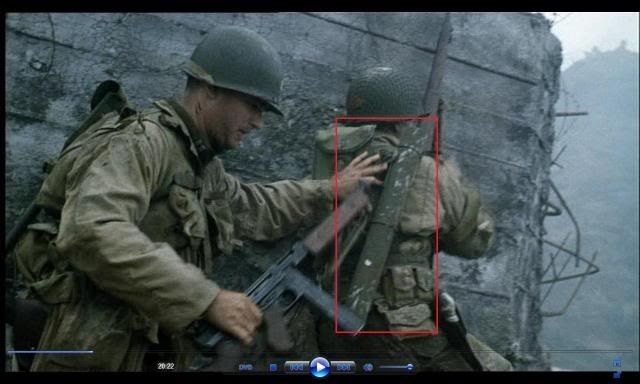 Topic starter
Posted : 06/07/2009 5:22 pm
Might be a bit of kit for holding bazooka rockets? looks similar to somthing I have seen somewhere but cant remember where the picture was.
Posted : 06/07/2009 6:18 pm
I was wondering if it was a half of a rocket launcher. Does he not have a specific role or make use of it at any point in the film - seems weird to burden him with a pointless prop!-- attachment is not available --




Posted : 06/07/2009 6:21 pm
There is a point where he reaches into what i think is the tube, and pulls out his larger scope. For the german sniper kill, in the bell tower.
Topic starter
Posted : 06/07/2009 6:30 pm
The larger scope he uses in SPR is the USMC scope (made by unertl I believe), totally wrong for the ETO. The standard M1903A4 scope was quite a bit shorter and thinner (the USMC scope required a modified bolt as well). Interchangeable scopes are a pretty stupid idea for a sniper rifle, because of zeroing issues.








When I want your opinion - I'll tell you what it is!
Posted : 06/07/2009 6:38 pm
Couple of other shots for you all to ponder over:
This one here is during the sniper kill. You see him remove the top cap. Which he leaves dangling.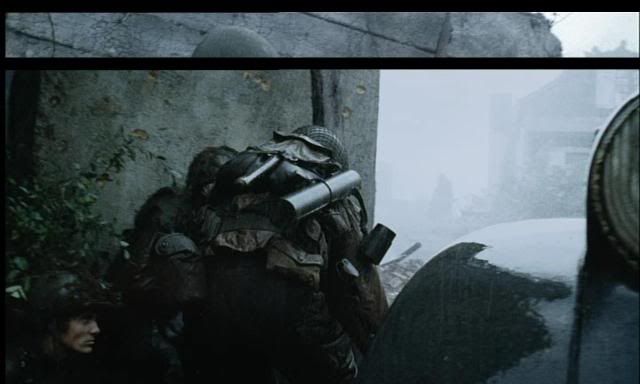 Topic starter
Posted : 06/07/2009 6:42 pm
Having looked at it further, and spending about 2hrs searching for something similar.
On a hunch i looked at bazooka rocket storage tubes. I think its one of those, but its been modded slightly. Im sure ive seen replica tubes for sale. DOes anyone know where as i cant remember?
Topic starter
Posted : 06/07/2009 9:10 pm
You could fabricate one of those for not much money.
SPR is a bit of a howler for authenticity though, so I wouldn't sweat too much about it, unless it's the filmsim thang you're going for.





Posted : 06/07/2009 10:27 pm
Yeah I'm aware that spr isn't known for accuracy when it comes to kit. I just like the look it gives. I'm trying to find some replica bazooka tubes. I'm sure I've seen them for sale. And looking at the cardboard tube option.
If anyone knows where to find the bazooka tubes I'd be grateful if you could let me know
Topic starter
Posted : 06/07/2009 11:33 pm
I thought Relics might do them, but they don't
http://www.relics.org.uk/shop.php?viewcategory=112
Anyhoo, cardboard tubes: http://www.wwiireenacting.co.uk/forum/v ... 10&t=17467
And stuff for SPR nuts (I think I've only watched it twice!)
http://www.imfdb.org/index.php/Saving_Private_Ryan
http://www.sproe.com/




Posted : 07/07/2009 6:35 am
SPROE is a good resource because it corrects the mistakes the film made.





Posted : 07/07/2009 10:13 am
If accuracy isn't an issue, I've seen map cases that look almost exactly the same, but a little smaller. T'is an option I guess.

Posted : 07/07/2009 1:25 pm
There are old leather camera lens and telescope cases that are similar too.
I wouldn't make it out of cardboard. A bit of rain and it'll be shagged.





Posted : 07/07/2009 2:01 pm
I've had the film on freeze frame and a picture of a rocket tube. They are indentical. Even down to the detailing with the lid. I'm making it out of 10mm thick cardboard tube. So shud be pretty weather proof. Might treat the tube to a pva glue.
With an aluminium lid...which is close to the original.
Topic starter
Posted : 07/07/2009 8:21 pm
wouldnt take much to waterproof the cardboard tube matt, just make sure you completely cover it, otherwise if wet it'll swell up
Posted : 08/07/2009 11:40 am