How was it for you???
Well it was, very dark, very confusing, and very fun lots of back and forth one minuit were winning the next everyone gone your by youreslf and theres germans everywhere. I counted up 9 definate kills for myself so im quit happy.
Thanks to all the players, site and organisers for a great game.
Posted : 26/04/2009 7:06 pm
Heh, yes it's such a different site, there is nothing to compare it to. This was much better than Wotan, and the ammo limit helped a bit. I forgot just how dark it was down there - literally could not see my hand in front of my face in places. My most satisfying kills were through a head-high hole in the brickwork, where I took out 3 Jerries who didn't have a clue where the fire was coming from! Great organisation Kermit et al. Also good to skirmish on the Allies side with people like Sgt Ash and Marsha.
And I am now the final paid up member of the Drink & Bling Gruppen.

You've got nothing to ein, zwei, drei, vier
Posted : 26/04/2009 7:31 pm
Well, I'm back home, the props and kit have been put away, and i've a beer at hand.
What can I say? Thanks to all the players, my fellow CiA organisers and to Andy & his crew for a most enjoyable days shooting
When I sat down to write this game I wanted to come up with a more sneaky-beaky type game than Wotan. The revised ammo limits and medic rules helped, as did the use of the red light. You guys and gals rose to the spirit of the event - short, vicious firefights, and plenty of flanking maneuvers - using brain cells as much as trigger fingers. A pleasure to shoot alongside the Allies for a change. Even if I do still think I looked bloody awful in Yank kit
More thoughts later, once i've had a good soak in the bath!



When we were a Kingdom it was run by a King
When we were an Empire it was run by an Empress
Now we're a country we're run by a..........
Posted : 26/04/2009 7:43 pm
FAN-flippin-tastic! I was revelling in the sneak beakyness! The game felt like it was engineered around my style of play, gun and run, sneak and peek!
Thanks to Kermit and all of the other organisers, and the UCAP guys for making it all possible! (damn you Andy for killing me with a springer!!)
Kermit you didnt look *that* bad in yank kit! I was convinced at least! Funnily enough Guy was saying at lunchtime to me "do you think its easier to recognise targets because all of the germans are wearing helmets? To which I said yeah,... not seen any blue on blue this morning... lo and behold, 1st time i get shot after lunch.... thanks Jay
ANywho, back to the game! It was awesome, I was scared and excited. I'm not looking foward to the headache when the adrenaline finally wears off!
Well done to the Germans too, shortly before lunch we had you on the back foot, but it didnt take long for you to push us back! Well played to all!
Great thanks to Oddball for kindly giving me a lift home, I would have still been somewhere between southampton and oxford by now no doubt!
Matt "Sneaky" Webb
Posted : 26/04/2009 8:35 pm
I had a great day, many thanks to the organisers & UCAP for creating such an atmospheric scenario!
Funniest bit of the day for me was when Bosh and I walked up to a fella we thought was a German. He in turn thought we were allies. After a couple of minutes of standing together Bosh called out the german password to some other players all three of us were looking at. The Brit para then spins round and opens up on us from about 2 foot away on full auto. Bosh and I look at each other and then shoot him, he had an empty mag
Took a couple of dodgy pics with my phone: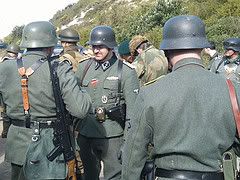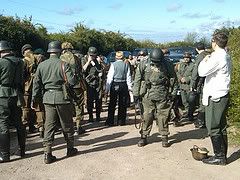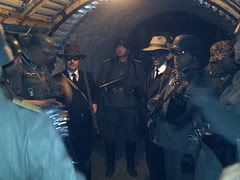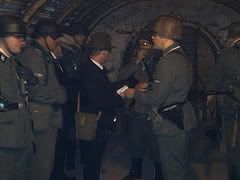 Thanks again
'shokt

"The older I grow the more I distrust the familiar doctrine that age brings wisdom"
H.L.Mencken
Posted : 26/04/2009 9:38 pm
Fantastic day, not played a CQB style game in about 2 years now and enjoyed the whole day, the dark allowed for loads of sneaking around, and the thunderflashes going off were really loud, but fun!, gun problems right from the start made my kills come in around 5 all day, but kept a lot of heads down.
Many thanks to Kermit and the UCAP crew for a great day, thanks to the Germans for giving me people to shoot and many thanks to all the Brits for fighting alongside me, and not forgetting the Yanks, Marsha for saving my butt when I was pinned down behind a stack of draws.
See you all soon
"Will you stop talking about the war!!"
"What, you started it!"
"We did NOT start it!"
"Yes you did, you invaded Poland..."



Posted : 26/04/2009 10:31 pm
Sometimes we never really find out what the other side's objectives were, and other details that get lost. (e.g. at Eagle, the Yanks only having 5 rounds at the beginning.) Would someone (Kermit?) be able to give away a few bits of info that we otherwise wouldn't know?

You've got nothing to ein, zwei, drei, vier
Posted : 26/04/2009 10:34 pm
Both the Allied and Axis objectives were the same. Which is why I hid the Intel in some odd places - trust me when I say that you did not find all of it. Or anywhere near all of it. They'll be finding it down there for years to come...
Oh yeah, did anyone find some sheets with handwritten codes on them? (i.e. 1/9/11/26/2) - and did you work out what they meant? (wasn't exactly a difficult code to break - just for fun!
)



When we were a Kingdom it was run by a King
When we were an Empire it was run by an Empress
Now we're a country we're run by a..........
Posted : 26/04/2009 10:47 pm
YES, I DID !!
I found it whilst shirking some action that was a bit too CQB for my tastes.
I'd proudly presented so much stuff to our CO's only to be told "nah, worthless" (often accompanied by a rolling of the eyes in a how-many-times-do-we-have-to-tell-you way), that I just saw a bunch of handwritten numbers and thought "nah, worthless" and didn't even bother taking it back
Posted : 27/04/2009 5:54 am
I am now the final paid up member of the Drink & Bling Gruppen.
Actually Andy, your now a member but not paid up
Posted : 27/04/2009 7:46 am
Gawd how tired am I and I wasn't even playing
excellant site with great staff and was an honour to be amongst Andy and his lads being daft for a game
We didn't get home til gone 1am (poor fandaglos will have been after that), have to go to work now and my brain isn't functioning.
Helga - have decided to see if I can take a pistol to work and play all over again
Posted : 27/04/2009 7:48 am
that I just saw a bunch of handwritten numbers and thought "nah, worthless" and didn't even bother taking it back
We found those aswell but thought nothing of them, usefully Webby was translating all the text I think one was a guide on how to speak German lol.
Also Helga killed me with her springer
Posted : 27/04/2009 8:16 am
Fantastic game, thanks to the CiA big four for organising it and to the UCAP mob for once again getting involved in the game and adding to the brilliant atmosphere. Without a doubt, I think it's the best site we've ever used for a game so far.
The standard of play was the highest I've seen at an airsoft game and there were no easy victories for anyone as everyone there was an experienced airsofter. I think the lower ammo limit worked an absolute treat and got people thinking rather than trying to shoot their way out of, or into every situation. The German side had the slight edge on teamwork and that's what carried the day for us.
This was my last game playing as a German, so it's nice to go out with a win and I'd like to say it's been a real pleasure and a bloody good laugh to play alongside such great people for the last couple of years.
As a side note, my Bro and I travelled down on the saturday to meet up with a few others at Sabre sales and we had a great time in there as well, it would have been easy to spend a weekend in there, rummaging! Nice to meet up, chat and have a drink with other CiA members before travelling to the site and spend some quality drinking time in the company of the Drink & Bling gruppe in the evening. Making a weekend of it was definitely the right thing to do.








When I want your opinion - I'll tell you what it is!
Posted : 27/04/2009 9:11 am
Yup we found the code but as it didnt fit in tot he three criteria we were expressily told only to look for.
(i,e Journal notes, blueprints and stmaped and signed letters)
we ignored it as it looked like it had been left from a previous game (same reason we didnt take the block of c4, booby trapped biohazard bomb, missile launch co-ordinates or dartboard! )

"I think we are in rats' alley - Where the dead men lost their bones."
Posted : 27/04/2009 10:08 am
The codes were not part of the intelligence to be collected. Just stuck 'em in there to see if anyone would bother to try and work them out. Don't think anyone did though, cos most of the messages were rather unsubtle - alright, downright rude - and i've had no complaints yet



When we were a Kingdom it was run by a King
When we were an Empire it was run by an Empress
Now we're a country we're run by a..........
Posted : 27/04/2009 10:27 am
well, i've finally recovered and woken up now after getting on for 40 hours awake in one go!
As for the game, absolutely fantastic, many thanks to Kermit and the rest of CiA, as well as Andy and the UCAP guys, obviously. the game itself was really great. What with PBI, I don't get to play as Germans as much as I'd personally like to, (or just actually play, without the weeks of prep!) so it was great to don the feldgrau and spend the weekend shooting at Yith for a change.
The lower ammo limits were brilliant, and meant that the sides didn't get bogged down fighting over setpiece areas. In fact, the only time i got to the last of my 6 lowcaps was when myself and Gadge were up in the mezzanine area. i probably only fired about 600 rounds in the entire day, and i used 250 up there!
All in all, the sneaking around/being tactical was a great change, i'm not sure how it worked for the Allied side, but as Germans we all pretty much stuck to our orders and i think that's what carried it for us.
Best moments for me? sneaking along the tunnels on my own after getting seperated in the absolute blackness when the generator failed, and coming across a room full of allies all looking the wrong way, before spraying the lot of them and legging it! Oh, and finding the correct barrels of blue gloop, erm, sorry, i mean 'Xerum 525' and guarding the access to them until we'd captured 2 scientists!
Only downside? The allies not getting anywhere near our CP all afternoon so i didn't get a change to use the Flare pistol at all as a last ditch defence. i tested it after end-ex and it basically filled the corridor with a wall of flying bb's!
Posted : 27/04/2009 10:43 am
Great site..
Great people..
Great game..
Nuff said..
______________




Posted : 27/04/2009 11:16 am