[Sticky]

Japanese Kit Pic Thread
Topic starter
27/11/2009 9:40 pm
Okay every other nationality has a Kit Pic Thread, so should the Japs...
My order of uniform and breadbag arrived from HIKISHOP; hat is a repro I bought earlier in the year off ebay; boots are US roughouts; belt is a british '03 pattern belt from SoF; water bottle is a Vietnamese one but is a lot like the jap ones. Puttees are original.
Of course the gun is a "captured weapon"...
-- attachment is not available ---- attachment is not available --
I take it that is the shorts and shirt combo, as opposed to the tunic and trousers.
Topic starter
17/04/2010 10:10 pm
Those are normal trousers, but yes a tropical shirt.
Some of my IJA gear:

Banzaiiiiiiiiii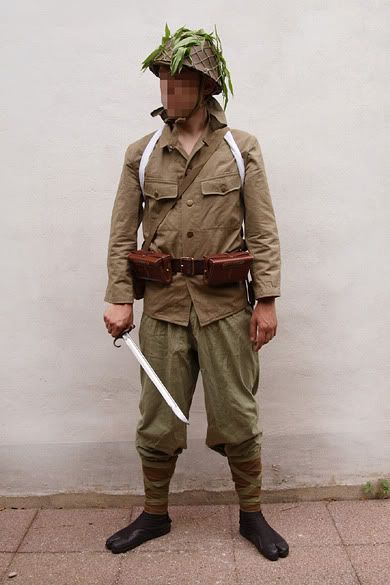 No Arisaka available where i live... so i am using a K98 for now...
Oh why not.
I could take a better one where I shaved, put on the right shoes and moved my slippers (that last one was a lie, I would always leave my slippers in shot) but here we are.
Banzai and all that jazz.-- attachment is not available --
Awesome!
When is there going to be a pacific event? I know the last one failed due to a lack of numbers, but get the word around and im sure we can pull off something special!
i think there were two other guys apart from those in these photos who could do Japanese and that was it.
whilst it would be fun to play, i dont think such a niche will be filled for a good while yet.
you could get quite a few US/brit players, but even with the most simple kit requirements, Japanese would be very very hard to fill
"Take that you rotton helping of strawberry flan!"
Joseph Porta to "strawberrys and cream", in the sven hassel book ,ogpu prison
but even with the most simple kit requirements, Japanese would be very very hard to fill
Tommy helmet + cam, Soviet breeches, puttees and some sort of brownish/greenish shirt + webbing?
Even so, I'm not sure you are going to get huge numbers of takers to be Japanese, although there is no reason for sides to be 'balanced'. Just need to tailor the tasks accordingly.
Cheers
Martin
"Mistakes in the initial deployment cannot be rectified" Helmuth von Moltke
Toys: AGM MP40, Cyma M1A1, TM M14/G43/SVT40, TM VSR/K98, SnS No. 4, ASG Sten, Ppsh.










I have all the Japanese kit, and wouldnt mind giving it a go... Im a member of the Japanese reenactment group ( http://www.japanesereenacting.co.uk/ ), and I could get a couple of guys over from there. Tbh you get loads of vietcong for the vietnam games... Japanese isnt a whole lot different
Topic starter
03/10/2012 8:42 pm
The far east blank fire battle a couple of years ago actually managed more japanese than allies, if I remember right.
There are people who will attend if you work at it.
Cool!
Maybe organise a pacific event at a small site for sometime next year, pull off one event (even if it is very very small) and more people would want to do it!
I keep looking back at this forum every few months in the vain hope that there would be a pacific event in future...
I know of 2 guys in my reenactment group: http://www.japanesereenacting.co.uk/ who would love to give it a go, and maybe a couple of other airsofter friends as well who might be intrested...
It would be amazing if we could get a pacific game up and running, would be a real change!
James