Our game is to be held at RIFT airsoft's Coms 3 site just outside Chipping Warden, Oxfordshire.
Postcode: OX17 1LZ
This postcode takes you onto the Culworth Road which the site access road is located, please see below image to refer to when you search on google maps for your directions.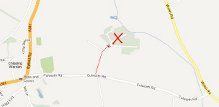 We will have signs posted for the event from Chipping Warden's Rose and Crown pub which is marked on the map.
Anyone who can give more detailed location info please feel free to supply it here.
Topic starter
Posted : 21/02/2013 4:58 pm