[Sticky]

Red Army Helmets
Following on from Special Department's comments about helmets I though I'd post the following guide.
RKKA helmets used in the war are one of three types. To start with the StalyShlem(SSh) 36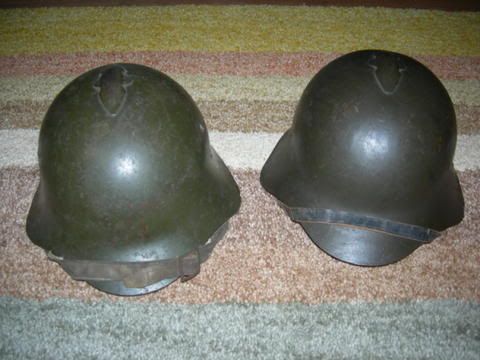 And liner
This saw use into early 1943 but was incredibly rare by that time. I've only ever seen one in a picture of front line troops that is definitely post 1942.
The main ones are the SSh39 and SSh40.
The SSh39
This is distinguishable by the three rivets placed high on the shell and it having the same liner as the SSh36.
This was shortly replaced by the SSh40 which was the same shell but with a three pad liner that provided greater stability.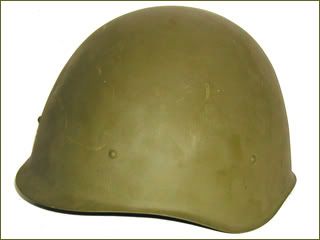 This is easily identified by the six rivets placed low on the helmet.
This SSh40 is the best option as it continued in production until 1960 and post war examples are easy to find at reasonable cost.
Topic starter
Posted : 09/09/2008 9:33 pm
The first postwar change to the wartime SSh40 was the introduction of a Y shaped chinstrap the same as the NVA's M56 helmet.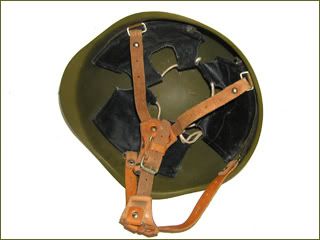 This was far from universal and is often mislabeled as a para helmet. It was used exclusively by Motor Rifle troops.
The first major change was the SSh60.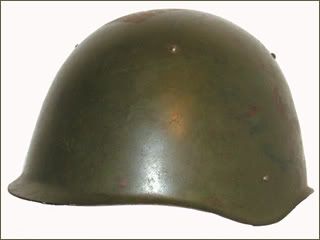 And liner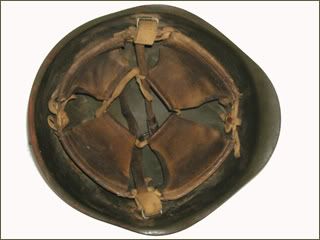 As you can see this retained the shell of the SSh40 but changed to a four pad liner secured by four rivets high on the shell.
Then the SSh68 was introduced
Nicknamed the Conehead for obvious reasons it has the same four pad liner as the SSh60.
The various titanium, Maska and kevlar types of the late/post Soviet period are clearly different and I won't be touching on them.
Topic starter
Posted : 09/09/2008 9:42 pm
First up, the closest of them all the Czech M52/53.
In 1952 the USSR supplied SSh40 shells top the Czechoslovakian People's Army. They fitted their own liners, called them M52 and from the following year produced their own copy calling it the M53.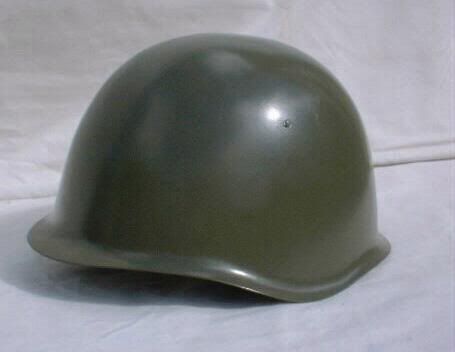 And liner
M52s are distinguishable by having both three small rivets high on the shell and six small rivets lower down while M53s only have the three small rivets.
While the correct shape this is the wrong colour, has the wrong liner, the wrong chinstrap and is the wrong thickness of metal. Most, if not all, of the so called Russian WW2 helmets on eBay are of this type and to make matters worse they have a post 1989 nylon webbing chinstrap. If you really must wear one then come and reenact CSLA with me!
The Polish M31/50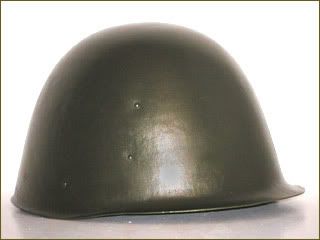 And liner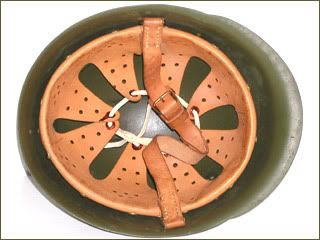 The pre-war Polish helmet with a new liner used right into the 1980s despite the M67 being introduced in that year.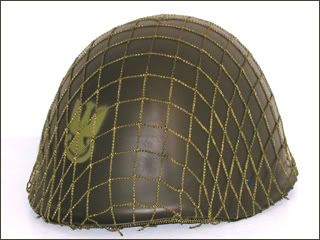 The Hungarian M70 (aka M50/65)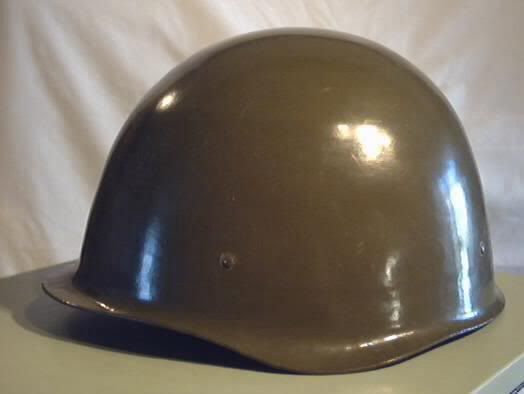 And liner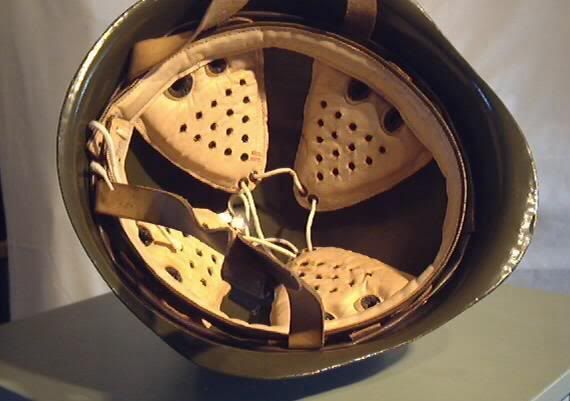 Using any of the above is similar to using a Bundeswehr M60/62 as an American helmet.
Topic starter
Posted : 09/09/2008 9:51 pm
Comrades,
As we know the Ssch1940 Helmet is Plain Olive Drab or otherwise known as that Russia Green we all know and love, you can smear Mud on it, there is some evidence of Covers being made, ( normally shown with Landed Sailors, likely their Steel Helmets were not Green) or better Home made Nets made of String work very well and is my favourite Gag, I use sometimes when appropriate ..
and Here's my Helmet with " Net "...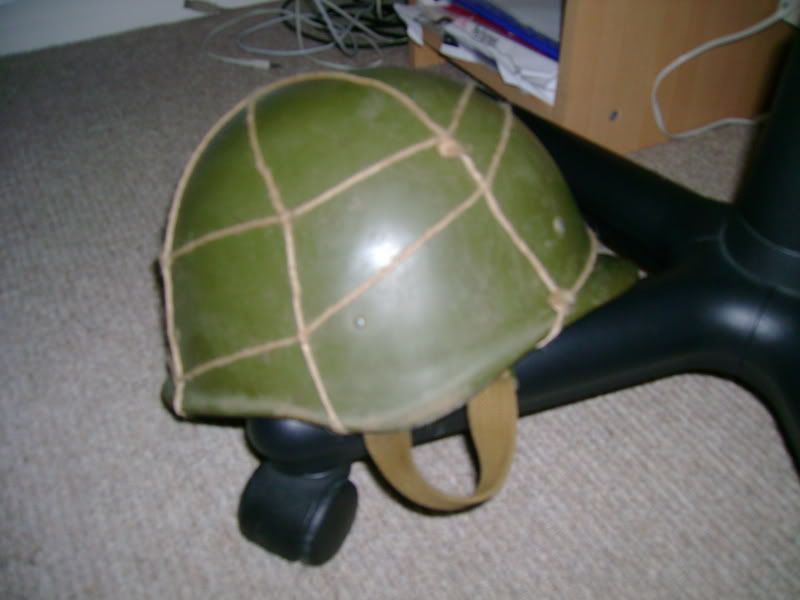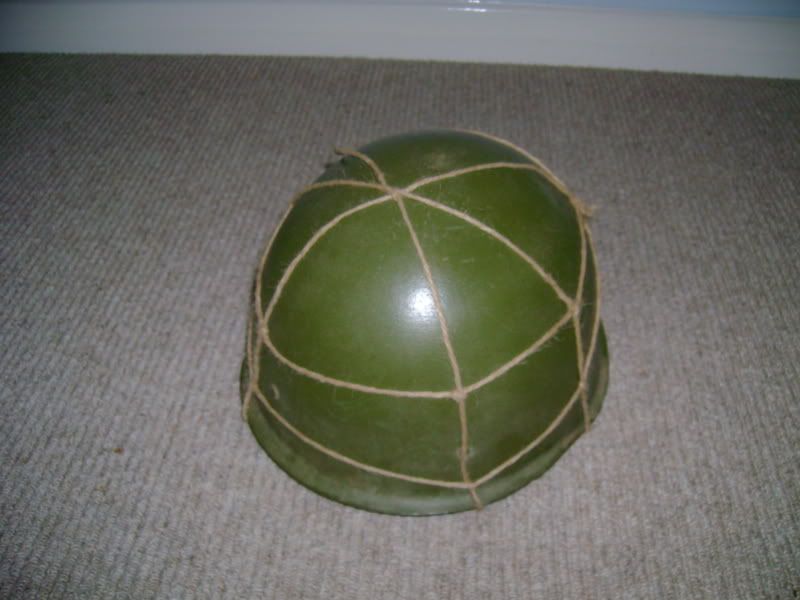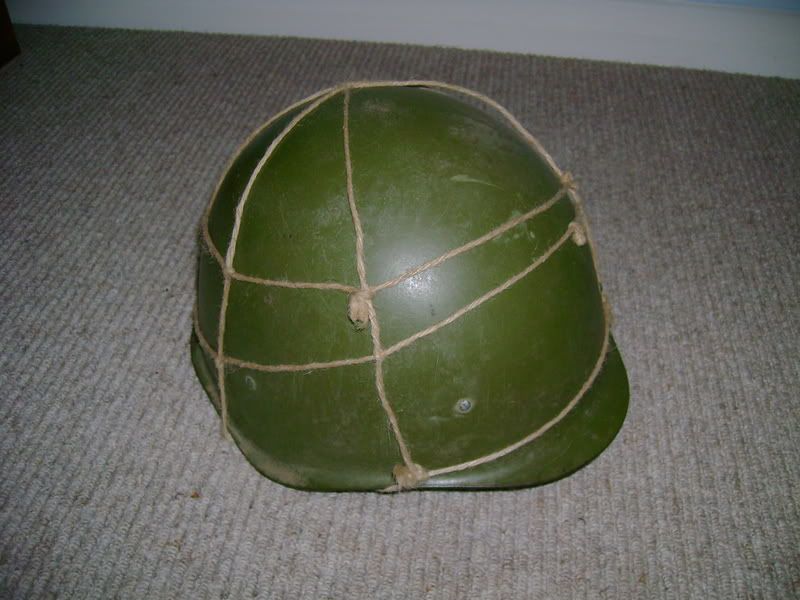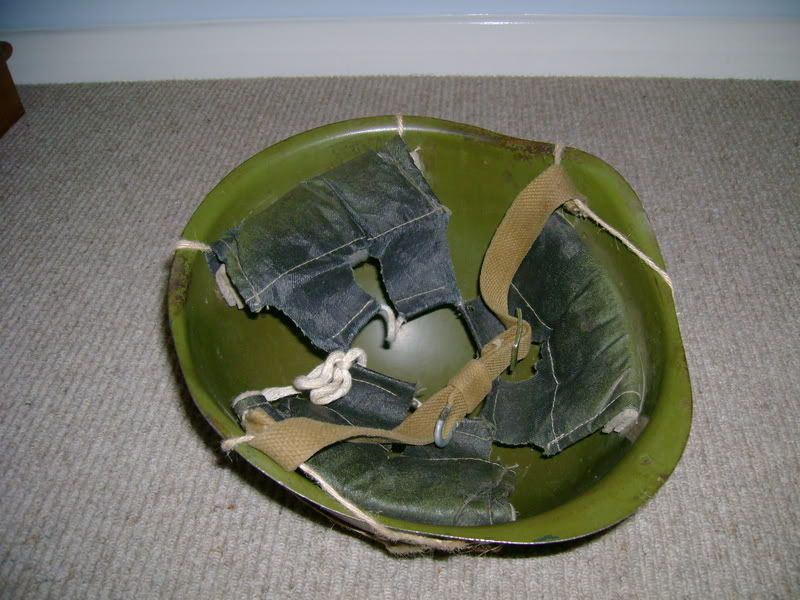 Enjoy.
Posted : 16/10/2008 4:50 am
Does anyone know what is the nearest humbrol paint colour for WW2 Russian helmets & anyone know where I can get a repo canvas chin strap?
Steve.D
Posted : 22/10/2009 1:02 am
сш-36 can be seen on some photos dated to the Battle of Kursk (1 of 10) and then in 1 photo from Prague (may 1945)- this could be from hinterland unit (he has Ранец обр. 1936г. too)
For this helmet exist Helmet Cover in amoeba camouflage (probably only for officers)


probably from Battle of Lake Khasan
Posted : 22/11/2009 10:55 pm
bit of a necro post but is there any repro helmet chin straps to make the czech ones look a bit closer to ww2 russian ?




Posted : 16/08/2013 7:01 pm
Not that I am aware of. But if you trawl militaria stalls you might find something.
Sent from my GT-I9505 using Tapatalk 2
Posted : 17/08/2013 8:40 pm
It is certainly possible, one of my pals has a Czech helmet reworked with a ww2 style chinstraph, but he got it second hand. No idea what the donor strap was from though.
At some point I may sort my Czech helmet out, but it isn't very high on the list of priorities.
Cheers
Martin
"Mistakes in the initial deployment cannot be rectified" Helmuth von Moltke
Toys: AGM MP40, Cyma M1A1, TM M14/G43/SVT40, TM VSR/K98, SnS No. 4, ASG Sten, Ppsh.











Posted : 18/08/2013 8:14 am
ta will try and sort something out




Posted : 18/08/2013 6:09 pm