MK3/4 helmet liner question
Hello,
I've been recently been looking for a MK3/4 helmet, as it would work in both WW2 and a cold war british loadout I've been dreaming of. Well, as it turns out, a mate of mine has one (I assume it's a MK3), but the liner on it microscopic, I've got a fairly big noggin, so there's no way I can wear it as it stands. So my question is whether it can be fitted with a bigger liner (and where to find those). I could also buy another one, which is bigger, but the issue is they're not readily available outside the UK (I assume you lot can buy one for a couple of pounds).
Cheers
Edit. Here is some pics of said helmet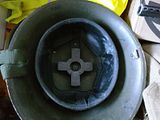 Why do you always carry that umbrella?
-Bad memory. Never could remember the password. Knew no Jerry would carry one. Had to prove I was an Englishman, you see.
A bridge too far
Topic starter
Posted : 02/05/2017 4:12 pm
It's a MkIV/MkV shell (both used the same shell - the MkIV used a liner similar to the MkII and MKIIIs, where-as the MkV had a newer padded liner). The liners of the MkIV and MkV shells are held in with a 'lift-the-dot' fastener, and the chin-strap mountings are riveted close to the rim of the shell; where-as the liners of original MkIII helmets are the same as those used in MKII helmets, so are held in place with a nut and bolt type fixture, and the chin-strap mountings are riveted up the shell closer to the wearer's head.
A Proud Member Of 'Team Spleen!' who play mainly at Gunman Airsoft, Tuddenham, Suffolk.




Posted : 05/05/2017 10:52 pm
Thanks for the reply McVickers. There seems to be little to none repro liners for the MKIII, so I suppose it's not possible to use a older type liner on the MKIV, seeing as it uses the lift-the-dot attachment?
Why do you always carry that umbrella?
-Bad memory. Never could remember the password. Knew no Jerry would carry one. Had to prove I was an Englishman, you see.
A bridge too far
Topic starter
Posted : 28/05/2017 3:06 pm