German Engineers
Beamten are Administrative Officials serving with or on behalf of the Armed Forces - HeeresVerWaltung...... - I've done quite a bit of in-depth research on this subject and have two very nice uniforms One a Recruitment Officer and the Other a Paymaster General,.......
Wehrmachtbeamten were army officials recruited from civilian careers, and could be "Mit und ohne offizierrang," with or without officer rank. Their command reached only within their specialty field -- unlike soldiers, whose authority extends to anyone ranked below. Beamten could not hold field command.
All beamte wore the letters HV on their shoulderbards (heeresverwaltung, Army administration).
Among Wehrmachtbeampte are found, for example, apotheker (pharmacist), Pfarrer (Chaplain) etc.

For example, the 30.6.1941 Kriegsrangliste of the 315 Infanterie Division lists the following Beamte in officer rank, as part of the "sämtlicher offiziere und Beamten des Stabes der 315 I.D" (Officers and officials in the divisional staff): Waffenmeister (aktiv) Löffelmann, Karl; Int. Rat (Intendant) Grabs, Joachim; Stb. Zahlmeister (aktiv) Langer, Herbert; O. Zahlmeister d. R. Lampe, Paul; O. Zahlmeister (Aktiv) Franke, Johannes; Assistent (registrator) Hinnersmann, Heinrich; Kr. Ger. Rat (Richter) Schapp, Wilhelm; Feldjust. Inspektor Bundesmann, Martin; Wehrmacht Pfarrer (Ev.) Oldenburg, Friedrich; Kriegspfarrer (Kath.) Pricking, Johannes; ap. Zahlmeister (Aktiv) Höbeler, Joachim.

In this instance, the division staff had 4 paymasters (Zahlmeister), one Judge, one ordnance officer, two chaplains (one Evangelical and one Catholic as always), and several other minor administrative officials, all Beamter.
IN short guys they were political Civil Servants. So Engineers? NO......
Look in the direction of Technische Nothilfe as they were essentially a civil organisation of Engineers and Specialists who ostensibly were there to protect, repair and restore installations such as the one we are mimicking here.
Org Todt is another candidate.....
I tend to think there is a good link with the HeeresWaffenAmpt or Army Ordnance Office (where we get those lovely little chicken stamps on our kit from) as they ran the initial Uranmaschinen projects but I'm not sure if it carried on to the Norsk Hydro project for Deuterium Oxlde (Heavy Water) Personally I wouldn't bother with Beamte insignia I'd go for German Army Specialists with Black ENGINEER piping or Org Todt (who have some lovely Raute or sleeve diamonds and collar patches) in various colours......
Many engineers wore Feldgrau or Black coveralls and a small sidecap. The Off White Drillich uniform was popular (I never really worked out why your work uniform was WHITE!) and obviously a belt and pistol (P08 or P38 would look absolutely spiffy.......
The Gentleman in the photo is an NCO as evidenced by the dark Green interwoven braid on his boards and the white metal "HV" Ciphers. The outer edge of the boards is very dark which support the statement of Engineer....
Here a bit of brain stretch for the non German Speakers...... "Schwartz" is the clue
Nebenfarbe of Beamten..... (Waffenfarbe was always Dunkelgrun)
Hochrot: Beamte im politischen Verwaltungsbereich
Karmesin: Beamte in Stäben
Hellblau: Beamte des militärischen Gerichtswesens
Hellgrün: Beamte der Pharmazie
Weiß: Beamte des Zahlmeisterwesens
Schwarz: Technische Beamte
Gelb: Remonten-Beamte
Orange: Beamte des Wehrersatzwesens
Hellbraun: nichttechnische Beamte des Lehrpersonals an Heeresschulen
Bottom Line
Forget Beamten - Stick with Wehrmacht, TeNo or Org Todt
Posted : 05/02/2010 10:55 pm
Not too keen on Org. Todt.
I think I'll be using some magic marker to knock up a pair of boards with black piping
Otto was Kriegsmarine Verwaltung. His shoulder boards are navy blue with a pair of crossed anchors and a pip, indicating the NCO rank of Steuermann - at least that's what the guy at the U-Boot Society told me.
Topic starter
Posted : 06/02/2010 5:24 pm
Unless you have other photos all I can see on the photo supplied are the raised KM type buttons on his shoulderboards which will have a fouled anchor on them. The pin on eagle is very indicative of KM insignia but the other cipher is definitely a "HV" as shown in the pivture below
http://www.therupturedduck.com/WebPages/Uniforms/images/U-123a-e.JPG
At the grade stated of Steurmann (Feldwebel) he would be considered Unteroffiziere mit Portepee and as such comparable rank would be Verwaltungsoffizier- anwärter or Marinebaubeamten- anwärter......... interesting to say the least
Edit
Sorry cut short by a phone call. The boards will have an underlay of dark Green (Waffenfarbe - Beamte) and an outer piping of most likely - black (Nebenfarbe - Engineer) Woudl relish seeing more photos of the insignia if you have them - perhaps off board as this is really cluttering up the thread
Posted : 06/02/2010 6:15 pm
Only one other picture of him in uniform that I know of: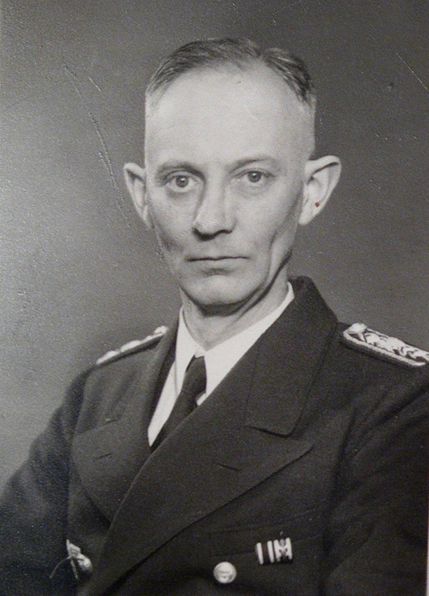 Marinebaubeamte might be right. His trade was mechanic, specifically diesel engines. His department at the naval base in Wilhelmshaven worked on Schnellboot design.
EDIT:
Would relish seeing more photos of the insignia if you have them
My grandmother used to have a boatload of his stuff, as well as treasures like my Great-Grandfather's ceremonial sword (he was a General in the Kaiser's army) and family documents going back to the 17th Century. All put in the bin one fateful morning when the senile old dear had a good old clear-out
All that's left is a tie pin with miniatures of his WWI decorations
Topic starter
Posted : 06/02/2010 6:37 pm
A friend of mine is restoring a schnelleboote right now - Your Opa is not still alive is he? would be nice to let him visit if he is......... And the blue and white checked shirt is KM issue......
Nice picture here.... I'll study it a bit
Posted : 06/02/2010 9:03 pm
Nah, Otto's long gone.
I thought S-130 was the only one left. Seeing one of those things do 40 knots would be mucho impressivo
Topic starter
Posted : 06/02/2010 9:24 pm
Specifically for Beds and Herts
http://www.s130.co.uk/
Amazing what you can locate when you talk to people.... Enjoy.
Posted : 23/02/2010 12:27 am
MTBs and schnellboots are my othewr hobby interest! Ive built a few build r/c ones..... saving the hobby for when i get too old to play airsoft. My Grandad worked in bournemouth/poole buiding MTB's, fairmile D's, and then landing craft! I would love to see a schnellboot do 40 knots! even bettter to be on one!! ........
Posted : 23/02/2010 7:58 am
Specifically for Beds and Herts
http://www.s130.co.uk/
Amazing what you can locate when you talk to people.... Enjoy.
Nice. And I thought WW2 Airsoft was an expensive hobby
Topic starter
Posted : 23/02/2010 8:38 am
This is a long shot but does anyone have a metal chest eagle I can borrow for this? I've not been able to get hold of Anthony@ militarianet and the only other plce I've found them is N.Morgi whose site won't accept my card.
Posted : 24/02/2010 1:52 pm
Crumbs, I used to have a real Kriegsmarine one... no idea where it is, but I will have a look.

You've got nothing to ein, zwei, drei, vier
Posted : 24/02/2010 2:10 pm
I know exactly where it is now.... somewhere in my parents' loft!

You've got nothing to ein, zwei, drei, vier
Posted : 24/02/2010 6:06 pm